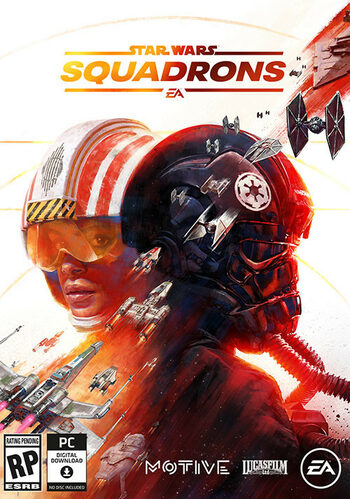 STAR WARS: Squadrons Steam Key GLOBAL
Udostępnij komuś, komu to się spodoba!
Cały światMoże być aktywowany w

Stany Zjednoczone Ameryki

Klucz cyfrowy

To jest cyfrowa wersja produktu (CD-KEY)

Natychmiastowa dostawa
Opinie: 0
Opis produktu
STAR WARS: Squadrons Steam Key
Motive and Electronic Arts return with a spectacular release to bring joy to fans of the Star Wars franchise. STAR WARS: Squadrons delivers a frenzied first-person game saturated with FPS and action elements, redefining the experience of piloting across the galaxy in wild chases and armed encounters! Buy STAR WARS: Squadrons Origin key to commit to the single-player campaign rich with story and SW characters or join the co-op multiplayer to participate in chaotic space battles and lightsaber matches! Are you ready to shake the galaxy to the core?
A fresh new Star Wars narrative
STAR WARS: Squadrons key takes you to the galaxy far away with an all-new narrative set between the events of the Return of the Jedi and The Force Awakens. You assume the role of a resistance pilot serving the New Republic and a member of the fading Empire, struggling to survive after its recent fall. Enjoy the rich dialogues and characters demonstrating depth and complexity, and make yourself an unforgettable character who fights for his beliefs for your name to ring across the galaxy in legends! Though the story is definitely one of the prominent gems in the game that draws attention, the multiplayer mode is the core of the STAR WARS: Squadrons game.
STAR WARS: Squadrons multiplayer gameplay
The real action begins once you enter multiplayer mode. Pilots who enlist will step into the cockpits of starfighters from both the New Republic and Imperial fleets and fight in strategic 5 vs. 5 space battles or rage in 1 vs. 1 battles of Dogfight mode. The combat experience unfolds in its full glory in all the multiplayer modes as you participate in chaotic battles along your squadron! Buy STAR WARS: Squadrons key to test the intricate power management features, rearrange your spaceship to suit your combat style and utilize the dazzling assortment of SW-styled weapons! Be ready to fall and rise as you work hard to master the advanced combat controls - remember, no Jedi was born a master.
Major gameplay features
You get to enjoy one of the greatest Star Wars games and engage in a challenging yet rewarding multiplayer for cheaper STAR WARS: Squadrons price! Become a participant in Star Wars franchise instead of a mere spectator with the title that offers exhilarating gameplay.
• Dynamic combat system. Take control of starfighters such as the X-wing and TIE fighter, utilize the power in your hands by switching between weapons, shields, and engines. Space battles and lightsaber fights guaranteed;
• Single-player campaign. The single-player campaign offers a story mode of a fresh new narrative set between the Return of the Jedi and The Force Awakens. Hours of gameplay following another mesmerizing SW story with multidimensional characters;
• Challenging multiplayer. STAR WARS: Squadrons multiplayer invites you to try out several modes which are going to test your abilities and determination, because this is where the full combat experience unfolds;
• Cheaper STAR WARS: Squadrons price.
There can never be enough of Star Wars, so we recommend checking out our collection of Star Wars video games for the best price!
Pozostałe szczegóły
Języki

Angielski

Francuski

Niemiecki

Włoski

hiszpański, kastylijski

Data wydania

2 października 2020

Wydawca

Electronic Arts Inc.

Deweloperzy

MOTIVE