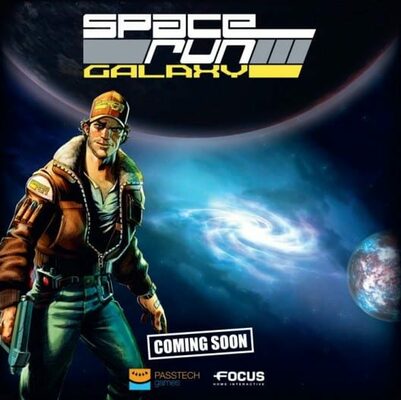 Space Run Galaxy Steam Key GLOBAL
99.67%

z 50k+ ocen są doskonałe!
Może zostać aktywowana w Stany Zjednoczone
Działa na
Space Run Galaxy key
Coming from the creative talent behind Passtech, a one-man studio, the sequel to Space Run will not disappoint. Buy Space Run Galaxy key and enjoy all the unique aspects from the previous game that the sequel had built upon, elevating the now-series above the simple tower-defence game. The greatly applauded feature of real-time spaceship construction – the staple to Space Run games – wasn't discarded either. Travel the galaxy as a courier of a sort, delivering goods and earning loot of your own.
Make it your own
As the goal of the game is to reach your destination as quickly as possible, it's only natural that your spaceship will be of great importance. Space Run Galaxy allows you to customize your ship, as well as add features that you see fit: weapons, shields, amplifiers. Buy Space Run Galaxy key and get creative, since the game also introduces special abilities that further differentiates the ships and playstyles. Establish yourself as an ace pilot – quick, reliable and worthy of a big reward. The more you invest in your ship, the greater the rewards (since the game operates on the 'fast delivery' principle).
Help each other
Space Run Galaxy introduces the exciting aspect of multiplayer. Simply put, other people may influence your gameplay just as much as NPC can. The delivery contracts, those wonderful things that earn you experience and materials, can you be issued by other players. Buy Space Run Galaxy key together with a friend and help each other grow. And keep in mind: there's no victory without a little bit of struggle.
Another thing that the multiplayer brings to the table is the market system. Any materials you don't want or need can be sold to another player, for which he will be eternally grateful – and the material form of that gratitude can be used to enhance your own ship! Everyone wins!
Space adventure awaits!
No true space exploration will be complete without the danger. Only, it's not the unknown or intangible that stands in your way. Instead, you will face the giant space monsters, evil and greedy pirates and a great variety of unfriendly elements. So, you better make a sturdy spaceship… or arm yourself to the teeth.
---
Szczegóły gry
Single player

Multi player

Side-view
---
Gatunek:
Działa na:
Języki:
angielski
francuski
hiszpański, kastylijski
niemiecki
rosyjski
---
Data wydania:
June 17, 2016
Deweloperzy
Passtech Games
Wydawca
Focus Home Interactive
---
Minimalne wymagania systemowe
Wymagania systemowe: Windows Vista, 7, 8.1, 10
Procesor: AMD/Intel Dual core 2.4 GHz
Pamięć: 3 GB
Grafika: 1 GB, OpenGL 3.3 Compatible NVIDIA Geforce 9800 GT/AMD Radeon HD 3870/Intel Iris 5100
Miejsce na dysku: 3 GB