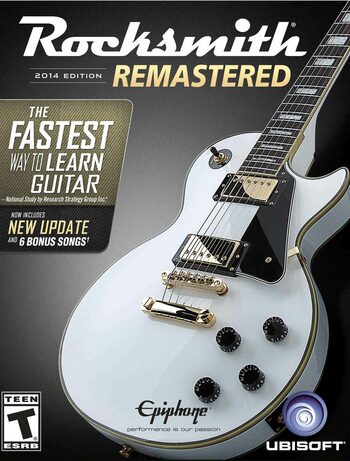 Rocksmith 2014 Remastered Edition Steam Key GLOBAL
Udostępnij komuś, komu to się spodoba!
Cały światMoże być aktywowany w

Stany Zjednoczone Ameryki

Klucz cyfrowy

To jest cyfrowa wersja produktu (CD-KEY)

Natychmiastowa dostawa
Opinie: 0
Opis produktu
Rocksmith 2014 Remastered Edition Steam key
Ubisoft delivers yet another entertaining virtual experience to enrich your daily life! With Rocksmith 2014 Remastered Steam key you get the chance to plug your guitar into your computer and play real music, no matter how skilled at playing the guitar you actually are, no plastic guitars needed. The fastest way to learn guitar is now better than ever. Join over three million people who have learned to play guitar with the award-winning Rocksmith 2014 Remastered Edition method. Will you be among the people who mastered their guitar skills with this game? Find out today!
Become the best guitar player!
With Rocksmith 2014 Remastered Edition (PC) key you can learn everything from single notes to chords and advanced techniques, all at your own pace. The learning process is typically fast and smooth because the gameplay adapts to your skill level as you play, whether you're a beginner or an experienced player! The learning is made fun through mini-games that motivate to play, granting a rewarding experience for mastering certain skills or songs, and offer an unconventional training method, making it far more appealing. Buy Rocksmith 2014 Remastered Steam key to challenge your skills as an advanced guitar player or start off your learning process in a more effective and fun way!
Besides, this remastered version also includes six free bonus songs:
• "Three Little Birds" by Bob Marley & The Wailers;
• "Suspicious Minds" by Elvis Presley;
• "Some Nights" by FUN.;
• "I Want You Back" by Jackson 5;
• "Hey Ya!" by Outkast;
• "Drops of Jupiter" by Train.
Major gameplay features
Get one of the best companions for learning or mastering your guitar playing skills! Enjoy the improved gameplay features and additional songs to rock to as your train your fingers to perform as best as possible!
• Extensive tools for practicing. The game provides an opportunity for you to customize your own practice session by developing your own Song Lists;
• Adjustive training process. It is no news that each person is an individual with different methods of learning, so the gameplay revolves around that exactly – allowing you to pick the most effective way to learn. You can adjust Rocksmith's Dynamic Difficulty levels to control the pace of learning;
• Revised menu system. Now it is even easier to navigate through the library of over 850 songs, and the whole navigation of the menu system has been improved remarkably;
• Cheaper Rocksmith 2014 Remastered Edition price.
Wymagania systemowe
Minimalne wymagania systemowe
Wymagania systemowe

Windows Vista / Windows 7

Procesor

2.0 GHz Intel Core 2 Duo E4400 / AMD Athlon 64 X2 3800+

Pamięć

2 GB RAM

Grafika

256 MB VRAM - NVIDIA GeForce 8600 GT / ATI Radeon HD 2600 XT

Miejsce na dysku

12 GB
Pozostałe szczegóły