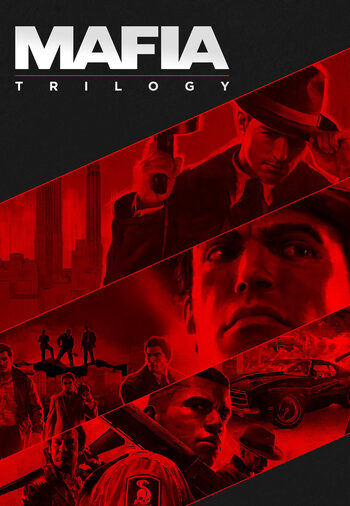 Mafia: Trilogy Steam Key EUROPE
Przepraszamy, wyprzedane :(
Chcesz tę grę? Możemy powiadomić Cię e-mailem, gdy produkt będzie ponownie dostępny.
Powiadomienie
EuropaNie można aktywować w

Stany Zjednoczone Ameryki

Klucz cyfrowy

To jest cyfrowa wersja produktu (CD-KEY)

Natychmiastowa dostawa
Opinie: 12
Larikroft

26.11.2020

Przetłumaczone automatycznie

Bardzo ładne wszystkie 3 gry. Bardziej podobał mi się remake pierwszej Mafii. Niesamowita grafika! Historia we wszystkich trzech jest cudowna.

Delabeto

20.12.2020

Przetłumaczone automatycznie

Świetny remake. Szkoda, że nie dodali więcej dodatkowego kontekstu, misji itp. a także ulepszyć sztuczną inteligencję wroga,

Loutzboy

22.11.2020

Przetłumaczone automatycznie

Po prostu niesamowity remake do odkrycia dla fanów Mafii, których z pewnością przekonają gry i tych, którzy chcą odkryć wszechświat Mafii uruchomiony

PGomes

8.01.2021

Przetłumaczone automatycznie

Pierwsza Mafia to świetna gra. Ma świetną historię, postacie i muzykę. Grafika jest w porządku, ale nie możesz wyłączyć Temporal AA,

Am1n

21.03.2021

Przetłumaczone automatycznie

Wszystko idealne, gra jest bez zarzutu! Bardzo miło jest ponownie przeżyć historię zremasterowanej gry Mafia!
Może ci się również spodobać
Opis produktu
Mafia: Trilogy Steam Key
One of the most astonishing things about video games is that often they appeal to our fantasies and preferences that otherwise can't take place in the real world, and allow us to engage in activities from the comfort of our homes. Developed by Hangar 13 and brought to you by no other than 2K Games on 2020-05-19, Mafia: Trilogy Steam key offers a setting and gameplay that pulls you in from the very beginning, and keeps you engaged for hours to come! Buy Mafia: Trilogy Steam key at a cheap price and submerge yourself in an experience where challenges and entertainment go hand-in-hand!
Adventure genre
Delve into Mafia: Trilogy Steam key and forget about everything that's happening in the world right now. Immerse yourself in the excitement and mystery of this adventure game. Work your way through the challenges of solving compelling puzzles. Question every detail that comes along the way, find the most intricate clues and answer the most difficult questions. This game is for those who want to train their mind while experiencing an amusing adventure. Don't wait up -- use the time you've got to develop great critical thinking skills!
Features
Immerse yourself into the fantastic world with Mafia: Trilogy key! Here are some features that will enhance your gameplay experience:
• Singleplayer - The game includes a story campaign meant for solo players.
• Atmospheric setting - The game combines an amazing score with breathtaking visuals for an immersive experience.
• Open world - Players can traverse stunning environments, meet colourful characters, and complete side content without limitations.
• FPS - This title emphasizes intense combat and includes hordes of enemies, a plethora of weapons, sizeable maps, and more.
• Violent - Contains various depictions of torture, injuries, and gruesome deaths.
• Action-adventure - This title is the perfect mix of combat, exploration, and puzzle-solving.
• Historic setting - Players explore the grime, grit, and beauty of a real historical chapter of human history.
• Crime - The game deals with topics of breaking the law, corruption, and criminals.
• Driving - This title includes various vehicles that can be used to reach other locations faster.
• Sexual content - The game features mature content not suitable for younger audiences.
• Noir setting - The world features a distinctly dark style - players engage in detective work and traverse a gritty, gruesome world.
Pozostałe szczegóły
Języki

Angielski

Czeski

Francuski

Niemiecki

Rosyjski

Spanish - Spain

Włoski

Data wydania

19 maja 2020

Wydawca

Aspyr

Deweloperzy

Hangar 13, D3T, Aspyr (Mac)

Działa na