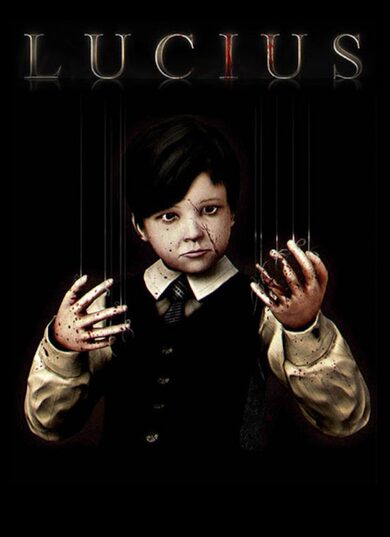 Lucius Steam Key GLOBAL
99.97%

z 275k+ ocen są doskonałe!
Cały światMoże być aktywowany w

Stany Zjednoczone

Klucz cyfrowy

To jest cyfrowa wersja produktu (CD-KEY)

Natychmiastowa dostawa
1

inne oferta
Lucius
Lucious is an action-adventure puzzle game developed by Shiver Games. You take the role of Lucious, a little boy born during the hot month of June. 1966, 6th of June to be precise. You are just a little boy waiting for your 6th birthday, your parents are filthy rich, and you live in a mansion, good for you! The night before your B-Day, lord Satan appears in your dream, and he explains your true nature, expectations, and destiny! As it seems your real father is the Devil himself!
You are the child of sin and evil, now you know it, and you certainly don't mind it! Create friendly accidents leading to deaths of the ones around you, use your hellish powers such as telekinesis and mind control to cause all kinds of disasters everywhere in your path. Play stealthy as you are still just a little boy, and no one suspects your true nature. The Spawn of the Devil is walking among us, and no man is batting an eye! It's a lovely adventure to experience!
---
Szczegóły gry
Ograniczenia 18+ (Cenzura)

Single player

Third-person
---
Gatunek:
Działa na:
Języki:
Simplified Chinese
angielski
francuski
hiszpański, kastylijski
niemiecki
polski
rosyjski
węgierski
włoski
---
Data wydania:
October 27, 2013
---
Wymagania systemowe:
Minimalne wymagania systemowe
Wymagania systemowe: Windows XP, VISTA, 7
Procesor: Pentium 4 1,5GHz or Athlon XP equivalent
Pamięć: 1.5 GB
Grafika: NVIDIA 8600 Series or ATI equivalent
Miejsce na dysku: 3 GB
Zalecane wymagania systemowe
Wymagania systemowe: Windows XP, VISTA, 7
Procesor: Pentium Core 2 2,6GHz or AMD equivalent
Pamięć: 2 GB
Grafika: NVIDIA 260 GT Series or ATI equivalent with 512MB of Graphics Memory
Miejsce na dysku: 3 GB