Legend of Keepers: Soul Smugglers (DLC) (PC) Steam Key GLOBAL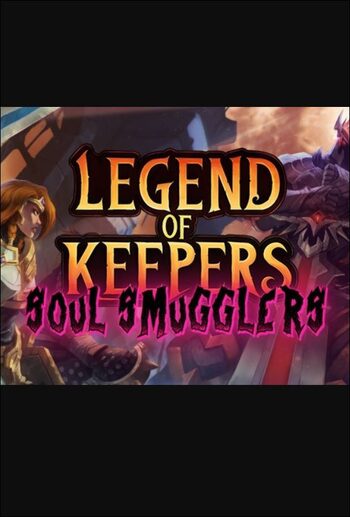 Legend of Keepers: Soul Smugglers (DLC) (PC) Steam Key GLOBAL
Cały światMoże być aktywowany w

Stany Zjednoczone Ameryki

Klucz cyfrowy

To jest cyfrowa wersja produktu (CD-KEY)

Natychmiastowa dostawa
Opinie: 0
Może ci się również spodobać
Opis produktu
Legend of Keepers: Soul Smugglers (DLC) (PC) Steam Key
Soul Smugglers DLC includes:
• Skeleton Lord master;
• 5 missions;
• New promotion: the Graveyard, allowing you to bring monsters back to life in various ways.
• Exclusive game mechanics: Soul Fragments that can be stolen from heroes to upgrade monsters and promotion;
• 10 Psychopomp monsters;
• 3 traps;
• 5 artefacts.
The Legend of Keepers: Soul Smugglers (DLC) key on Steam is the hallmark of strategy titles, ready to take players on a unique gaming experience! Brought to you by the famous Goblinz Publishing and developed by a professional team from Goblinz Studio, the title exceeds expectations and provides one-of-a-kind entertainment for the fans of strategy games. It's no secret that the key to enjoying gaming is finding the right game that appeals to your preferences and engages you in the virtual world, so hesitate no more, buy Legend of Keepers: Soul Smugglers (DLC) Steam key at a cheaper price, and dive into gameplay that challenges and inspires!
Strategy genre
Make use of tactical thinking skills in this strategy game. Legend of Keepers: Soul Smugglers (DLC) Steam key will encourage you to think creatively in the most dynamic ways. Observe the elements and actions happening in the game, plan out a strategy, and achieve that victory. Use all these little details to build the big picture. The game has a great learning curve, so you won't only entertain yourself but will train your mind to make the best decisions. With some determination, anyone can ace the game and feel like a pro!
Features
Legend of Keepers: Soul Smugglers (DLC) key contains a distinct set of gameplay features that will keep you focused throughout the entire experience! Let's take a look at the main elements:
• 2D graphics – The world is two-dimensional and cannot be rotated to different angles;
• Indie – This title was created by an independent team of developers focused on creative innovations;
• Roguelike – You enter procedurally-generated maps, face beasts hellbent on killing you, and collect valuables and equipment;
• RPG – You create a protagonist, participate in combat, improve your skills, and complete missions;
• Singleplayer – The game includes a story campaign meant for solo players;
• Cheap Legend of Keepers: Soul Smugglers (DLC) (PC) price.
Wymagania systemowe
Minimalne wymagania systemowe
Wymagania systemowe

Windows 7

Procesor

Core i3

Pamięć

2 GB RAM

Grafika

DirectX 11 / OpenGL 3.3

Miejsce na dysku

1 GB
Pozostałe szczegóły