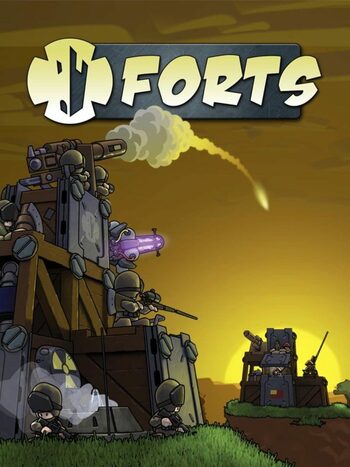 Udostępnij komuś, komu to się spodoba!
Cały światMoże być aktywowany w

Stany Zjednoczone Ameryki

Sprawdź

Klucz cyfrowy

To jest cyfrowa wersja produktu (CD-KEY)

Natychmiastowa dostawa
Opinie: 0
Może ci się również spodobać
Opis produktu
Forts Steam Key
Developed and published by EarthWork Games, Forts offers a dynamic RTS experience that mixes up the elements of strategy, engineering, and micromanagement seamlessly. The objective is fairly simple - to build a fort and reduce the fort of your opponent to rubble using any means given. Buy Forts Steam key to unleash your destructive nature in the indie-type world where building and destruction cannot exist without one another! Fast-paced gameplay is all about the exceptional experience of building fast and binging complete demolition upon your enemies even faster.
What are Forts gameplay features?
Forts is a simple game that's all about having a fun time coming up with strategically advantageous ways of destroying other forts and efficiently building your own. The title offers a set of engrossing gameplay features to try out:
• Forts. Of course, the spotlight goes to forts - you can build forts of any size and shape even as you fight, and the options are quite flexible and rich in selection;
• Multiplayer. You can partake in online multiplayer mode that supports up to 8 players where you can co-op and share some hilarious moments;
• A myriad of guns. Utilize the wide arsenal of guns at your disposal that can demolish anything in their way or efficiently exploited using analytical skills;
• 4 factions. You can choose one faction out of 4 available, each containing distinct characteristics and advantages;
• Cheaper Forts price.
Never-ending generous updates
Forts gameplay never ceases to improve with continually pending updates that keep adding more content and reshaping features for the sake of advancement. Frequent updates include free DLCs, seasonal content like Halloween theme, modding, Multiplayer leaderboards, and minor or major fixes regarding gameplay features. Once you dive into the experience of Frost key, you are in for constantly fresh content and entertaining gameplay where RTS is delivered in anything premise of blowing up forts and at the same time rebuilding yours before you are defeated! Do you have the analytical skills and speed? Find out today!
Wymagania systemowe
Minimalne wymagania systemowe
Wymagania systemowe

Windows Vista, 7, 8 or 10

Procesor

Pentium Dual-Core 2.7GHz

Pamięć

4 GB RAM

Grafika

Intel HD Graphics 520

DirectX

9.0c

Miejsce na dysku

1 GB
Pozostałe szczegóły
Języki

Angielski

Francuski

Niemiecki

Portuguese - Brazil

Rosyjski

Simplified Chinese

Spanish - Spain

Włoski

japoński

koreański

polski

portugalski

turecki

węgierski

Data wydania

19 kwietnia 2017

Wydawca

EarthWork Games

Deweloperzy

EarthWork Games

Działa na