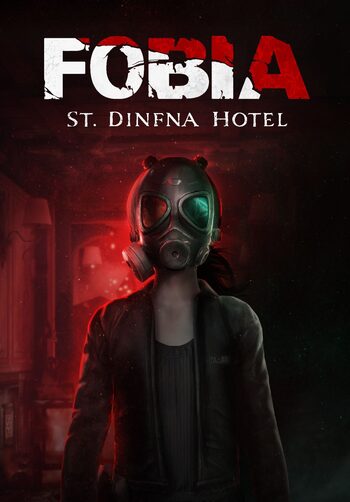 Fobia - St. Dinfna Hotel (PC) Steam Key GLOBAL
2 osoby oglądają ten produkt
Udostępnij komuś, komu to się spodoba!
Cały światMoże być aktywowany w

Stany Zjednoczone Ameryki

Sprawdź

Klucz cyfrowy

To jest cyfrowa wersja produktu (CD-KEY)

Natychmiastowa dostawa
Opinie: 4
.

31.03.2023

Przetłumaczone automatycznie

Znakomita brazylijska gra, niesamowita oprawa i wprawia w napięcie w każdym pokoju. Naprawdę fajnie jest móc grać w gry zrobione przez Brazylijczyków,

MarkGuro

26.03.2023

Przetłumaczone automatycznie

Interesująca brazylijska gra niezależna, w której udaje się uchwycić "starą szkołę" esencji survival horroru; tak, ma pewne szczegóły, takie jak nadużywanie łamigłówek,

Um bom jogo de terror

24.03.2023

Przetłumaczone automatycznie

Bardzo dobrze wykonana gra jak na niezależne studio. Zasługuje na większe uznanie, powiedziałbym, że jest na poziomie takich sukcesów jak Outlast pod

Abuelio2003

10.03.2023

Przetłumaczone automatycznie

To gra z małym budżetem, ale dobrze zrobiona. Z poprawną grafiką i historią, która jest nieco oklepana, ale jest zgodna. Dobry zakup, jeśli lubisz przygody,
Może ci się również spodobać
Opis produktu
Fobia - St. Dinfna Hotel
Developed by such a distinguished gaming studio as Pulsatrix Studios and published by globally known Maximum Games, Fobia - St. Dinfna Hotel key delivers an electrifying experience one simply could not pass by. Released in 2022-06-28 and available on Steam, the title is ready to redefine your gaming experience at the seams. Buy Fobia - St. Dinfna Hotel key for a cheaper price and enjoy hours of engaging and jovial gameplay, a fine entertainment in the virtual world, perfect for unwinding after a long day or drawing inspiration from. Witness the unlimited potential of Fobia - St. Dinfna Hotel Steam key today for a lucrative offer!
Survival genre
A hostile environment, minimal resources, foraging, and no set goals – there's only the player and their world. This is Fobia - St. Dinfna Hotel Steam key. In this game, just like in any other survival game, one needs to create their own habitat and stay alive. There's a lot more work and learning to do than in a usual action game but the thrill of being in total control of everything around the player and mastering the tactics of staying alive will make up for the extra labour.
The St. Difna Hotel isn't what it appears to be. The old building hides a lot of secrets. To those who are brave enough to reveal them, these Fobia - St. Dinfna Hotel __GAME_PLATFROM__ key features will help on their survival-horror journey:
• The haunted house. Explore the spine-chilling hotel and solve challenging puzzles. Your survival depends on it!
• A love letter to survival horror. Inspired by the best games in the genre, Fobia ties to recapture and deliver a true survival horror experience.
• Recorded in time. A glance through your camera will allow you to see into the past and pick up and interact with objects that are no longer there. Quite a unique gameplay mechanic!
• Combine items. By combining various items you will be able to improve their use and efficiency;
• Cheap Fobia - St. Difna Hotel key price.
Reveal the secrets
How far would you go to boost your career? A young journalist Roberto is so dedicated to his craft that he's not afraid to investigate an old, clearly haunted hotel. At a first glance, Sant Dinfna Hotel looks like an old and abandoned building but soon, you and Roberto will realize that not everything is what it appears to be. Solve puzzles, fight supernatural beings, and use your time-traveling camera to explore and reveal the dark secrets hidden among the walls of Sant Dinfna Hotel. Are you brave enough to buy Fobia - St. Dinfna __GAME_PLATFROM__ key and reveal the dark secrets?
Wymagania systemowe
Minimalne wymagania systemowe
Obsługa 64-bitowa

Yes

Wymagania systemowe

WINDOWS® 7, 8, 8.1, 10, 11 (64-BIT Required)

Procesor

Core i3 9100 or Ryzen 3 2300X

Pamięć

4 GB RAM

Grafika

NVIDIA GeForce GTX 960 4GB or Radeon RX 6400 4GB

Miejsce na dysku

10 GB
Pozostałe szczegóły
Języki

Angielski

Francuski

Niemiecki

Portuguese - Brazil

Spanish - Latin America

Włoski

Data wydania

28 czerwca 2022

Wydawca

Maximum Games

Deweloperzy

Pulsatrix Studios