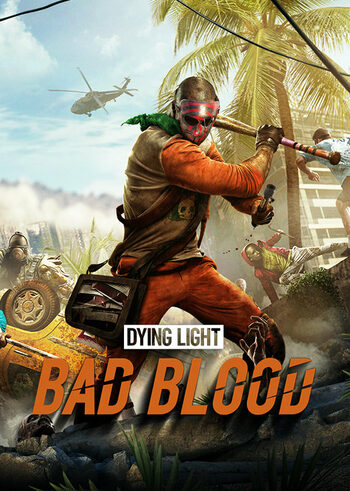 Dying Light - Bad Blood Steam Key GLOBAL
99.88%

z 125k+ ocen są doskonałe!
Najtaniej
Cały światMoże być aktywowany w

Stany Zjednoczone Ameryki

Klucz cyfrowy

To jest cyfrowa wersja produktu (CD-KEY)

Natychmiastowa dostawa
3

inne ofert
Recenzje: 4
Riwil

2.05.2020

Przetłumaczone automatycznie

Dobra gra, ale jej brakuje, można powiedzieć, że jest w fazie beta

Riwil

17.04.2020

Przetłumaczone automatycznie

Jest bardzo dobry, chociaż pokazuje, że brakuje mu rozwoju

ComandoCharlie

24.09.2020

Przetłumaczone automatycznie

Dobra rozgrywka oprócz bardzo dobrej jakości grafiki.

DAKOTA

7.01.2021

Przetłumaczone automatycznie

Szczerze mówiąc, wydaje mi się, że jest to jedna z najlepszych gier postapokaliptycznych o zombie. Polecam tę grę w 100%! OCENA: -Dobra grafika. -Złożona
Dying Light - Bad Blood Steam Key
Dying Light: Bad Blood Steam key is a multiplayer battle royale game developed by Techland, and an outstanding addition to the Dying Light game. You are one of the 12 players released onto the map, with a single task in mind — survive! No zombie, and certainly, no human will stop you, as there are no other options but to be the last one standing at the end of this massacre. Use your wits, your skills, and your knowledge to strive in the zombie-infested environment designed to end you. Parkour your way out of danger, and when there's no other choice, fight in a melee combat with all your might – it is either you or them… Twelve comes in, one goes out.
Brutal battle royale
Dying Light: Bad Blood PC, otherwise known as the Dying Light battle royale, presents a brutal competition for survival in the fictional setting where infectious zombies pose a deadly threat to all the players. Once the match begins, you are tasked to collect blood samples from infected-occupied areas around the map, and only when you've collected enough, a helicopter arrives to pick you up and it might be the only ticket out of this living hell. Buy Dying Light: Bad Blood Steam key and enjoy a multiplayer-centric DLC to one of the greatest zombie-themed titles with advanced melee combat, reinforced by atmospheric open world, creating an action-packed dystopian mood that lingers long after you shut down the game!
Intense and rewarding experience
Techland appealed to multiplayer needs to bring the best possible DLC gameplay of the Dying Light universe. A remarkable collaboration of PvP and PvE gameplay provides a fast-paced experience since players must be aware of the surroundings and other players simultaneously. The intensity of the gameplay reinforces the apocalyptic theme present in the Dying Light: Bad Blood Steam key, so be sure to arm yourself with skill and determination as you enter a highly competitive game! Remember, every living and non-living being in the game means you ill, so spare no one, act fast and run even faster.
Dying Light: Bad Blood gameplay features
The gory online DLC offers a variety of gameplay features to enhance your Dying Light experience and challenge battle royale fans. Scavenge for weapons, destroy zombie hives to level up, and combine your advanced parkour mobility with brutal combat skills to outrun, outsmart, and outplay your opponents. Buy Dying Light: Bad Blood Steam (CD) key and you are to try out these game features:
• Brilliant mix of PvP & PvE. The competitive multiplayer offers an experience where players and in-game environment are trying to end you simultaneously;
• Melee-centered combat. FPP combat along with versatile parkour mobility invites players to test their skills in dynamic melee combat using new moves and a whole arsenal of ferocious weapons at your disposal;
• Duo mode. The cooperative Duo mode offers a team up with one player, so you can take down everyone in confidence, and evacuate together;
• Open world. Enjoy the post-apocalyptic open world that constantly tries to kill you, but also contains plenty of collectibles and treasures all over the map;
• Cheaper Dying Light: Bad Blood price.
---
Szczegóły gry
Ograniczenia 18+ (Cenzura)

Single player

Multi player

CO-Ops

First-person

Virtual reality
---
Gatunek:
Działa na:
Języki:
---
Data wydania:
13 września 2018
Wydawca
Techland Publishing
---
Wymagania systemowe:
Minimalne wymagania systemowe
Wymagania systemowe: Windows 7 / Windows 8 / Windows 8.1
Procesor: Intel Core i5-2500 3.3 GHz / AMD FX-8320 3.5 GHz
Pamięć: 4 GB RAM
Grafika: 1 GB VRAM - NVIDIA GeForce GTX 560 / AMD Radeon HD 6870
Miejsce na dysku: 40 GB
Dodatkowe informacje: 64-bit OS
Zalecane wymagania systemowe
Wymagania systemowe: Windows 7 / Windows 8 / Windows 8.1
Procesor: Intel Core i5-4670K 3.4 GHz / AMD FX-8350 4.0 GHz
Pamięć: 8 GB RAM
Grafika: 2 GB VRAM - NVIDIA GeForce GTX 780 / AMD Radeon R9 290
Miejsce na dysku: 40 GB