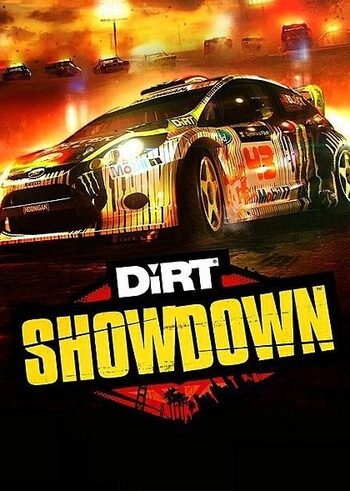 DiRT Showdown Steam Key EUROPE
Single player

Multi player

Third-person

First-person
EuropaNie można aktywować w

Stany Zjednoczone Ameryki

Klucz cyfrowy

To jest cyfrowa wersja produktu (CD-KEY)

Natychmiastowa dostawa
Opinie: 1
Mantelio

24.04.2020

Przetłumaczone automatycznie

Cicha dobra gra :)
Opis produktu
DiRT Showdown key
The DiRT series is back, even more vibrant and exciting than ever before. Buy DiRT Showdown key and take to the streets of well-known locations; experience true speed as you battle for the crown in the nerve-wracking races. Whether you slam your way to victory, or bypass the opponents like a leaf in a storm, it's all up to you because no one punishes the winners!
Impactful experience
Quite literally, as the mechanics behind the impact system was improved exponentially. The damage engine used to give the game another layer of tension does not disappoint, as every crash and misstep on your part has costly and destructive consequences! If you want to push it to the limit, buy DiRT Showdown key, deck out your car and prepare to enter the demolition derby – as the name might suggest, this is not a kind stroll in the park. No one will spare you here, so you better have a quick reaction and even faster car!
Get a grip
No, we don't mean getting serious – though that helps – but rather the fact that game allows the drivers both new and old to get used to their new vehicles, as well as test their capabilities, in vast free-roaming parks, where there are no dangers, but also no rewards. Buy DiRT Showdown key, warm-up, take a seat behind the wheel and fly in the streets of popular cities – rain or sunshine, do not let that hinder you! Overcome obstacles, contend with other drivers and push your car to the limit.
Never alone
If you prefer to avoid the solo gameplay, you can engage in a race with a friend using the local co-op (just be sure not to mix up which split-screen is yours!). The connectivity doesn't end here, though! Group up with up to 8 people online and see which one of you is worthy to win. Once you buy DiRT Showdown key, there are over ten different types of events you can run, so repetitiveness will not be a problem.
If you like fast cars and even faster races, this title is the one for you. A good addition to any racing game collection.
Wymagania systemowe
Minimalne wymagania systemowe
Wymagania systemowe

Windows XP / Vista / Windows 7

Procesor

3.2 Ghz - AMD Athlon 64 x2 / Intel Pentium D

Pamięć

2 GB RAM

Grafika

AMD Radeon HD2000 / Nvidia GeForce 8000 / Intel HD Graphics 2500

Miejsce na dysku

15 GB

Dodatkowe informacje

Internet connection
Pozostałe szczegóły
Języki

Data wydania

24 maja 2012

Wydawca

Codemasters

Deweloperzy

Codemasters Software

Działa na