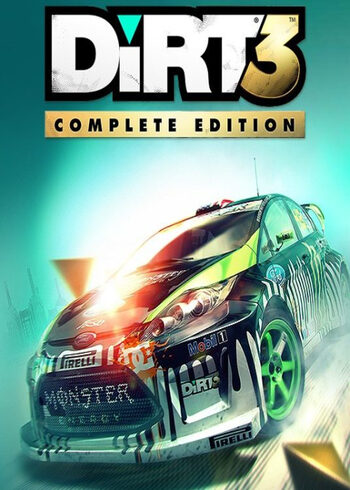 Dirt 3 (Complete Edition) Steam Key GLOBAL
Jednoosobowe

Tryb wieloosobowy

Trzecia osoba

Pierwsza osoba
Cały światMoże być aktywowany w

Stany Zjednoczone Ameryki

Klucz cyfrowy

To jest cyfrowa wersja produktu (CD-KEY)

Natychmiastowa dostawa
Gracze oglądali również
Opinie: 18
Walcotito

18.05.2020

Przetłumaczone automatycznie

Bardzo realistyczny i dobry multiplayer!

Damocles Games

27.08.2020

Przetłumaczone automatycznie

To świetna gra na rok, w którym została wydana. Naprawdę jeśli chodzi o grafikę i ścieżkę dźwiękową, ale w rozgrywce uważam,

Brcwyn

27.07.2020

Przetłumaczone automatycznie

Ta gra jest dobra, proponuję w nią zagrać.

pdper

19.05.2020

Przetłumaczone automatycznie

Mimo lat dobrze sobie radzi i pozostaje grą, w której można spędzić kilka godzin zabawy.

Realistic

31.03.2021

Przetłumaczone automatycznie

Pro: gra z bardzo dobrą grafiką i odpowiednią rozgrywką. Ma kilka poziomów trudności, idealnych dla różnych typów graczy. Ścieżka dźwiękowa dobra,
Może ci się również spodobać
Dirt 3 (Complete Edition) key
DiRT 3: Complete Edition Steam CD key includes:
• The Monte Carlo Rally Pack;
• The X Games Asia Track Pack;
• The Power and Glory Car Pack;
• The Mud and Guts Car Pack;
• The Colin McRae Vision Charity Pack;
• The Mini Gymkhana Special Pack.
Redeem DiRT 3 product key and get your hands on the Complete Edition of the racing game developed by Codemasters and published by Feral Interactive! The original version of the title was released in 2011 for Microsoft Windows and the seventh generation consoles Xbox 360 and PlayStation 3. In 2012, publisher Feral Interactive released all of the DLC for free and this is exactly what DiRT 3: Complete Edition Steam CD key encompasses - full game and all of its additional content.
Codemasters level game
Developers at Codemasters studios know what they're doing when it comes to racing video games. These are the creators behind the rest of the existing DiRT games, F1 series, and Race Driver: GRID franchise. DiRT 3 product key promises this exact level of quality. The game runs of Codemasters' signature EGO Engine, the graphics look even amazing considering the game's age, audio effects like engine sounds feel deeply satisfying and car handling really gives the impression of weight and gut-wrenching speed!
Variety of racing disciplines
DiRT 3: Complete Edition Steam CD key presents a title that could rightfully be considered as one of the best rally video games ever released but make no mistake – there's more in store! Throughout your in-game career, you'll participate in races from a variety of motorsport disciplines. Once you buy DiRT 3 product key, you can expect racing that takes place not only in country side tracks but also in city streets as well! You'll learn to handle everything from extreme off-road racing to adrenaline-inducing driving through concrete jungle!
DiRT 3: Complete Edition features:
• All DLC included. The title contains all downloadable content released for DiRT 3;
• Codemasters game. Highest level of quality is assured as you are bound to play a game from the creators of F1 and Race Driver: Grid series;
• Varied tracks. DiRT 3: Complete Edition Steam CD key features both off-road rally tracks and racing events taking place in city streets;
• Gymkhana. Polish your driving skills in Gymkhana game mode where you'll learn to drift and perform other impressive maneuvers with your car;
• Stylish menu. Codemasters always surprise players with original menus, and DiRT 3: Complete Edition menu also catches the eyes with its triangle-based design;
• Car unlocking. Cars in the DiRT 3 are unlocked not with in-game currency but based on skill. The better you get, the more rewards you'll receive from sponsors;
• Cheap DiRT 3 product key price!
Wymagania systemowe
Minimalne wymagania systemowe
Wymagania systemowe

Windows Vista / 7 / 8

Procesor

2.8 GHz

Pamięć

2 GB RAM

Grafika

256 MB VRAM

Miejsce na dysku

15 GB
Zalecane wymagania systemowe
Wymagania systemowe

Windows Vista / 7 / 8

Procesor

AMD Phenom II / Intel Core i7

Grafika

AMD Radeon HD 6000 Series

Miejsce na dysku

15 GB
Pozostałe szczegóły
Języki

Angielski

Francuski

Niemiecki

Włoski

hiszpański, kastylijski

Data wydania

2 kwietnia 2015

Wydawca

Codemasters

Deweloperzy

Codemasters Software

Działa na