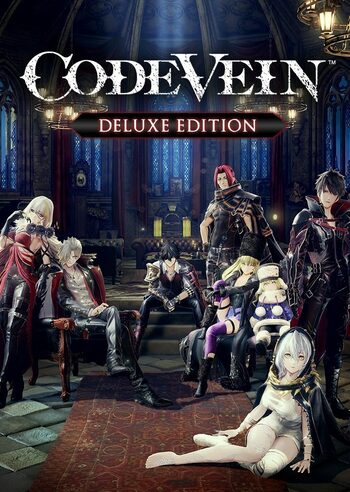 Code Vein (Deluxe Edition) Steam Key EUROPE
99.82%

z 800k+ ocen są doskonałe!
Najtaniej
EuropaNie można aktywować w

Stany Zjednoczone Ameryki

Klucz cyfrowy

To jest cyfrowa wersja produktu (CD-KEY)

Natychmiastowa dostawa
1

inne oferta
Recenzje: 2
Dosnarr

19.05.2021

Przetłumaczone automatycznie

Gra w stylu souls, idealna, jeśli chcesz grać w kooperacji z przyjacielem. Całą przygodę można rozegrać kooperacyjnie. Gorąco polecam,

Vriel

22.12.2020

Przetłumaczone automatycznie

Wielu twierdzi, że gra jest doskonałym punktem wyjścia dla ludzi, którzy chcą wejść w gry typu Souls Like i to prawda, mogę powiedzieć,
Code Vein (Deluxe Edition) Steam key
Buy Code Vein (Deluxe Edition) Steam key and you will receive the following:
● Full Game
● Season Pass
● Season Pass Bonus: Alternate Mia Set
● Deluxe Edition bonus - Accessory Set: Insatiable Bloodthirst
Code Vein design
It's exactly as the name might suggest: the game's design draws both from Souls franchise and Japanese animation in equal measure. Basically, the game is hard and maybe even punishing at times. You have tough bosses, tricky enemies, ambushes and the constantly changing threat of death.
Much like in Dark Souls, there will not by any easy encounters, and you have to prepare accordingly, as your death will cost you a lot. Buy Code Vein (Deluxe Edition) key and experience several more elements borrowed from Souls, marvel how it all blends seamlessly with the unique style of the game and the story it tells.
Code Vein customization options
The game offers a great many options that will make your character into something that's truly yours. There is an extensive character creation screen where you can find anything from different hairstyles, eye colour or even scars and their layout. But that's not all!
Accessories, clothing and makeup will make the protagonist unique, and when you apply the extensive colour selection to it all, the game deserves all the praises! Buy Code Vein (Deluxe Edition) key and experience one of the best-designed character creations; become the hero you want to be.
Code Vein - the use of blood
Combat in the game revolves around blood – either in name only or because the substance powers your attacks. Code Vein has a two-way system you can utilize in battle. Blood Code presents you with Gifts, which can unlock new abilities or grant access to strong attacks. Blood Codes can be changes when you see fit, to adapt to the situation.
Pick a technique that goes well with your weapon and unleash combo attacks on your enemy. Buy Code Vein (Deluxe Edition) key and you may experiment with Blood Veil; drain the blood (you are a vampire, after all) from your opponent and let it power some of your stronger attacks, and those also come in several types.
Simply put, Code Vein present challenging gameplay and extensive customization, making this into a great RPG where your character is not yours in name only - become the Revenant, discover the secrets of your cursed land, and find a way to escape the hunger without becoming one of the Lost.
---
Szczegóły gry
Single player

Multi player

CO-Ops

Third-person
---
Gatunek:
Działa na:
Języki:
Angielski
Francuski
Niemiecki
Włoski
hiszpański, kastylijski
portugalski
---
Data wydania:
27 września 2019
Deweloperzy
BANDAI NAMCO Studios Inc.
Wydawca
BANDAI NAMCO Entertainment
---
Wymagania systemowe:
Minimalne wymagania systemowe
Wymagania systemowe: Windows 7 SP1 or Windows 10 (64-bit)
Procesor: Intel Core i5-2300
Pamięć: 6 GB RAM
Grafika: GeForce GTX 760 or Radeon HD 7850
DirectX: 11
Sieć: Broadband Internet connection
Zalecane wymagania systemowe
Wymagania systemowe: Windows 7 SP1 or Windows 10 (64-bit)
Procesor: Intel Core i5-7400 or AMD Ryzen 3 2200G
Pamięć: 8 GB RAM
Grafika: GeForce GTX 960 or Radeon R9 380X
DirectX: 12
Sieć: Broadband Internet connection