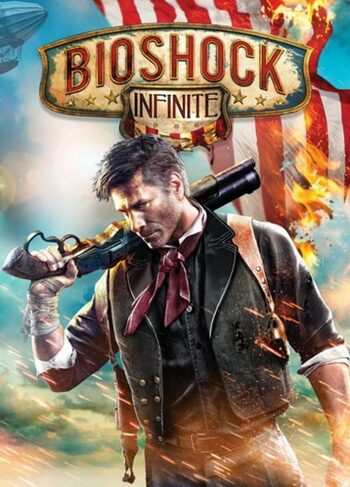 BioShock Infinite Steam Key GLOBAL
Udostępnij komuś, komu to się spodoba!
Przepraszamy, wyprzedane :(
Chcesz tę grę? Możemy powiadomić Cię e-mailem, gdy produkt będzie ponownie dostępny.
Powiadomienie
Cały światMoże być aktywowany w

Stany Zjednoczone Ameryki

Klucz cyfrowy

To jest cyfrowa wersja produktu (CD-KEY)

Natychmiastowa dostawa
Opinie: 7
BioShock infinite

31.10.2020

Przetłumaczone automatycznie

To jedna z najlepszych strzelanek akcji, w jakie grałem do tej pory, historia jest niesamowita i uwielbiam jej związek z poprzednimi dwoma grami,

Tryk

12.08.2020

Przetłumaczone automatycznie

Świetna historia, doskonała muzyka i niesamowity konkurs. To jedna z moich ulubionych gier, w jakie kiedykolwiek grałem.

FrankEsp

10.07.2020

Przetłumaczone automatycznie

Jego grafika jest doskonała i zaskakujące, że można w nią grać na niskim PC

:)

10.06.2020

Przetłumaczone automatycznie

To świetna gra, historia jest niesamowita. To prawdopodobnie MUSI mieć w twojej bibliotece gier. Całkowicie polecany - To świetna gra z doskonałą historią.

iarrova

13.05.2020

Przetłumaczone automatycznie

Ogólnie bardzo dobra gra. Historia jest niesamowita i ma swój kreskówkowy styl graficzny, który wszyscy kojarzą teraz z Bioshock Infinite. Rozgrywka jest naprawdę dynamiczna,
Może ci się również spodobać
Opis produktu
BioShock Infinite Steam Key
Bioshock Infinite follows the story of Booker DeWitt, a veteran of the US Cavalry, who got indebted to the wrong people and has only one chance to fix the problem. To do it, he has to go to the flying city of Columbia and venture a mysterious girl, who's been imprisoned there her whole life. Booker and the girl, Elizabeth, from an unlikely bond and make their escape, learning to use steampunk weapons and abilities on the way.
If you're looking for a compelling game, then this is the offer you can't skip by! On 2013-03-26, teams of professional developers from Irrational Games and 2K together delivered the one and only BioShock Infinite key, available on Steam. Crafted with the utmost care and attention to detail, the game celebrates the triumph of hard work and an innovative perspective on gaming. Buy BioShock Infinite Steam key to enjoy a rich action experience and save your funds with a cheaper price. What can be better than a slow evening spent with a compelling game that leaves you with unforgettable moments spent in the virtual world?
Action genre
Because BioShock Infinite Steam key is in the action genre, it'll test your reflexes, coordination, and spatial reasoning. Emphasizing intense and fast-paced events, it'll satisfy your craving for action. Here, everything happens quickly and there's no time to fool around. Choose your items, identify the threats, and get in action. This type of gaming will provide an efficient mechanism for training your reaction time without decreasing the accuracy of performance. So entertain yourself, achieve the best results, and learn a few good tricks along the way!
Features
Interested in BioShock Infinite key but don't know what to expect? Here's a list of the key features and gameplay mechanics included in this title:
• 3D graphics – The world is presented in three dimensions and can be viewed and rotated from every angle;
• Atmospheric setting – The game combines an amazing score with breathtaking visuals for an immersive experience;
• First-person view – Players see their surroundings from the perspective of their character;
• Shooter – You are tasked with collecting various powerful guns and spotting and eliminating threats;
• Singleplayer – Players can engage with the story of the solo campaign;
• Story-driven – The game heavily focuses on presenting a compelling story above everything else;
• Cheap BioShock Infinite (PC) price
Wymagania systemowe
Minimalne wymagania systemowe
Wymagania systemowe

Windows Vista

Procesor

2.4 GHz - Core 2 Duo E4600 / Athlon 64 X2 Dual Core 5200+

Pamięć

2 GB RAM

Grafika

GeForce GT 340 / Radeon HD 3800

Miejsce na dysku

20 GB
Zalecane wymagania systemowe
Wymagania systemowe

Windows 7 64Bit

Procesor

2.4 GHz - Core 2 Quad Q6600 / Athlon II X4 610e

Pamięć

4 GB RAM

Grafika

GeForce GTX 560 / Radeon HD 6950

Miejsce na dysku

20 GB
Pozostałe szczegóły