Spotify Premium 3 Month Key EGYPT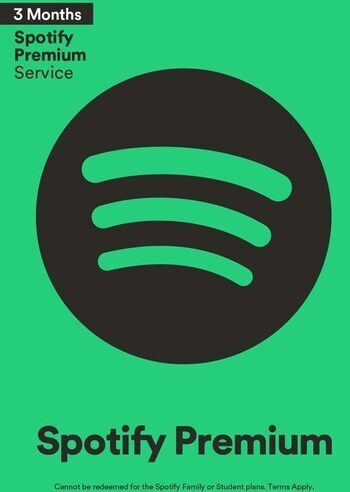 Spotify Premium 3 Month Key EGYPT
6 osoby oglądają ten produkt
Udostępnij komuś, komu to się spodoba!
Najtańsza oferta
Kup jako prezent
Otrzymaj ten produkt jako prezent PDF.
Szukasz dobrych okazji?
Otrzymuj je na swoją skrzynkę odbiorczą
Dostępne przy płatności:
EMEANie można aktywować w

Stany Zjednoczone Ameryki

Klucz cyfrowy

To jest cyfrowa wersja produktu (CD-KEY)

Natychmiastowa dostawa
Ważna uwaga:
No expiration date. Code is valid only for the EGYPT account. To redeem code visit: www.spotify.com/redeem/. This key is for an Individual Premium plan only. You can't use it for Premium Student, Premium Family, Premium Duo, or trial offers.
Opis produktu
Spotify Premium 3 Month EGYPT
Like music, love to relax and enjoy yourself, and – most importantly – love the ease of modern life? Well, when you buy Spotify Premium Subscription 3 month key Egypt, you get access to many of those aspects. Listen to music how and when you want to, with no interruptions and no additional fees per song.
Offline joy
Yes, you heard it right: with Spotify Premium 3 month membership, you can get the song you like to play while you are offline. This can save you both the data usage, as well as hassle in case you find yourself outside of your coverage zone. No more climbing in a tree while camping, just turn on your device and listen to what you want. Additionally, once you buy Spotify Premium Subscription 3 month key Egypt, you can make your own playlists and share them with friends. Even check what other people are into – and maybe you will get new insights into what your friends like!
All the devices
Well, maybe not ALL of them, but many for sure! Spotify can be installed on your computer, phone, or tablet. Granted, each has its own benefits. House computer – or even laptop – can be used to show your Spotify to others, like at a party! Astound the guests with your music taste and the constant uninterrupted stream of tunes. Or, if you pick a mobile device and buy Spotify Premium Subscription 3 month key Egypt, you can take your music on a trip with you. No more boring joggings or bus rides, when you can listen to your favorites.
Say no to ads
Some people dislike them, others outright hate them – and there are very few who actually don't mind them. Ads are not the most glamorous thing to have, no matter what you are engaging in. It's the same as when you play a game and a pop-up appears – annoying! Music is not different, no one wants to have their songs ruined by an obnoxious sound. Buy Spotify Premium Subscription 3 month key Egypt and solve this issue by removing ads from your account, so you will never be irked by them again!
How to activate a Spotify redeem code?
• Visit the main Spotify website;
• Log in with your Spotify account;
• Go the Redeem page;
• Enter your Spotify activation code;
• Press Continue;
• Enjoy the full potential of Spotify!
Pozostałe szczegóły
Data wydania

1 stycznia 2010

Wydawca

Spotify

Deweloperzy

Spotify