Spotify Gift Card 100 NOK Key NORWAY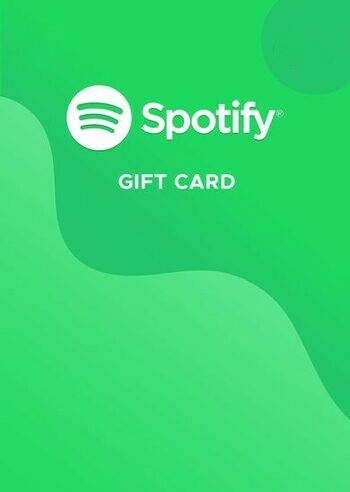 Spotify Gift Card 100 NOK Key NORWAY
Udostępnij komuś, komu to się spodoba!
NorwegiaNie można aktywować w

Stany Zjednoczone Ameryki

Sprawdź

Klucz cyfrowy

To jest cyfrowa wersja produktu (CD-KEY)

Natychmiastowa dostawa
Ważna uwaga:
No expiration date. Code is valid only for the Norway account. To redeem code visit: www.spotify.com/redeem/. Gift cards can only be used to get Premium Individual plans. You can't use them for Premium Student, Premium Family, Premium Duo, or trial offers.
Może ci się również spodobać
Opis produktu
Spotify Gift Card 100 NOK NORWAY
Unlock the unlimited potential of Spotify with a Spotify gift card 100 NOK! It's a cheap and very convenient way to enjoy all the amazing possibilities available through this music streaming service housing more than 50 million audio tracks. Aside from your favorite songs or albums of the world's most acclaimed artists, with Spotify gift code you'll also be able to browse and enjoy a generous selection of podcasts and videos with ease! Exclusive content is also featured on Spotify. Redeem code today and enjoy music seamlessly!
What can Spotify gift cards be used for?
First and foremost, Spotify gift card 100 NOK increases the amount of funds on a Spotify account of your choice. In turn, these funds can be used to purchase a Spotify Premium subscription of a preferable duration and cost. With Spotify Premium users can listen to music without being interrupted by ads, create and share music playlists or listen to their favorite songs even when they are offline. 
Spotify gift card benefits
Exited to use the exclusive features of Spotify? Redeem code now and you'll be all set! Just bear in mind as you go – Spotify gift code is for Premium membership only. It can't be redeemed together with Premium Family, Premium Students, or trial offers. Instead, Spotify gift card 100 NOK introduces its own set of benefits. Firstly, the key code doesn't have a fixed price which means you can purchase it by paying less than the value it adds to your Spotify account, helping you save in the process. Secondly, Spotify redeem code is not limited by an expiry date, therefore you are free to keep it for a special future occasion!
Surprise your loved ones!
It would be hard to come by a person who doesn't love music. Everyone has their favorite song or at least a favorite music genre, that's why Spotify gift card 100 NOK will serve as a perfect present for almost anyone or any occasion. No need to trouble yourself by coming up with specific gift ideas – just get your friend or family member a Spotify gift code and provide them with the freedom to enjoy their favorite songs wherever and whenever they choose!
How to activate a Spotify redeem code?
• Visit the main Spotify website;
• Log in with your Spotify account;
• Go the Redeem page;
• Enter your Spotify activation code;
• Press Continue;
• Enjoy the full potential of Spotify!
Pozostałe szczegóły
Data wydania

1 stycznia 2010

Wydawca

Spotify

Deweloperzy

Spotify