Grand Theft Auto IV: The Complete Edition (ENG) (PC) Rockstar Games Launcher Key GLOBAL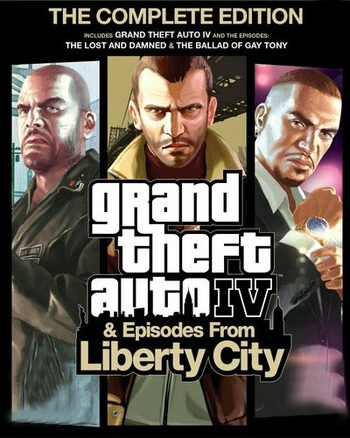 Grand Theft Auto IV: The Complete Edition (ENG) (PC) Rockstar Games Launcher Key GLOBAL
Udostępnij komuś, komu to się spodoba!
Cały światMoże być aktywowany w

Stany Zjednoczone Ameryki

Klucz cyfrowy

To jest cyfrowa wersja produktu (CD-KEY)

Natychmiastowa dostawa
Ważna uwaga:
Includes only English language!
Opinie: 1
Ad

20.03.2023

Przetłumaczone automatycznie

GTA IV to gra z otwartym światem z szeroką gamą aktywności i misji, z realistycznym systemem strzelania i imponującą fizyką.
Opis produktu
Grand Theft Auto IV: The Complete Edition
With the Grand Theft Auto IV PC key (Complete Edition) you'll get to experience everything that the Liberty City can offer, and there's plenty on offer here. Both, the gameplay and the storyline, that this thrilling, open-world action-packed experience offers are exceptional to the finest detail, so don't wait any longer and begin your journey right here, right now!
Exceptional
While such iterations to the GTA series as San Andreas and Vice City were miraculous in their own sense and certainly brought something new for the fans to rejoice, the Grand Theft Auto IV PC key (Complete Edition) tries to deviate from the already set franchise rules and focuses on producing more realism, broader spectrum of sensibility, and overall, enlarges the scale of immersion to even grander scale.
Different
Buy Grand Theft Auto IV PC key (Complete Edition) and assume control of Nico Bellic, an immigrant with a fixed set of rules, you may also say a code by which he acts no matter the situation. Nico isn't trying to prove his superiority or to establish his position as the frantic maniac in the city. The protagonist on this version of the Liberty City is searching for something, and only by embarking on this journey together with him, you will be able to find the answer.
Complete
Buy Grand Theft Auto IV PC key (Complete Edition) and receive the base GTA IV game as well as the Episodes from the Liberty City. The episodic content will add extra missions, areas, weapons, characters and more to further increase the original game's scale and size. Together with numerous additions, you'll also get to experience an entirely new storyline that is also set to intertwine with the base game.
Wymagania systemowe
Minimalne wymagania systemowe
Wymagania systemowe

Windows 7 SP1

Procesor

Intel Core 2 Quad CPU Q6600 @ 2.40GHz (4 CPUs) / AMD Phenom 9850 Quad-Core Processor (4 CPUs) @ 2.5GHz

Pamięć

2 GB RAM

Grafika

Graphics256MB Nvidia 7900 / 256MB ATI X1900

Miejsce na dysku

22 GB
Pozostałe szczegóły
Języki

Data wydania

27 października 2010

Wydawca

Rockstar Games

Deweloperzy

Rockstar North

Działa na