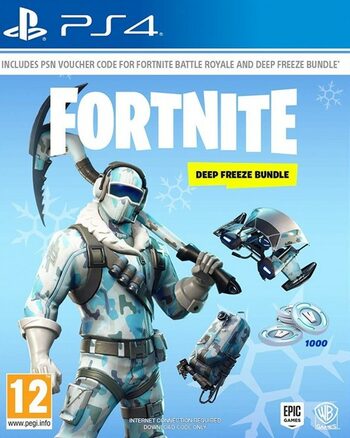 Fortnite: Deep Freeze Bundle + 1000 V-Bucks (PS4) PSN Key UNITED STATES
Udostępnij komuś, komu to się spodoba!
Przepraszamy, wyprzedane :(
Chcesz tę grę? Możemy powiadomić Cię e-mailem, gdy produkt będzie ponownie dostępny.
Powiadomienie
Stany ZjednoczoneMoże być aktywowany w

Stany Zjednoczone Ameryki

Klucz cyfrowy

To jest cyfrowa wersja produktu (CD-KEY)

Natychmiastowa dostawa
Działa na:
PlayStation 4
PlayStation 5
Opinie: 0
Fortnite: Deep Freeze Bundle + 1000 V-Bucks (PS4)
Items included:
• Frostbite Outfit;
• Freezing Point Back Bling;
• Chill-Axe Pickaxe;
• Cold Front Glider;
• 1000 V-Bucks.
Deep Freeze Bundle (PS4) is a winter-themed downloadable content pack for a free-to-play battle royale video game Fortnite, developed and published by Epic Games. One of the main items Deep Freeze Bundle (PS4) includes is the Frostbite skin together with Freezing Point Back Bling that always comes along with it. This winter-themed cosmetic item DLC bundle also provides Chill-Axe Pickaxe customization option for the harvesting tool as well as Cold Front Glider used to land on the island at the beginning of every match.
Welcome to Fortnite!
If you happen to be new to this game, purchasing the Deep Freeze Bundle for the PS4 version of Fortnite is a great way to start this journey. Put on your Frostbite skin, ready your Freezing Point Back Bling, and land on the island-battlefield with the help of Cold Front Glider. You'll touchdown with 99 other players, find weapons, equipment, and fight to the death until only one remains! Hone your skills and claim victory against impossible odds! The game features stylish, animated graphics (very similar to Overwatch or Team Fortress 2) which highlight the creative designs of cosmetic skins featured in Fortnite. Join now and personally discover the reasons behind the massive popularity of this title!
Spend 1,000 V-bucks on Fortnite item store!
Frostbite skin, along with other items in the package, is a great one to own, but if it won't be sufficient for all your Fortnite needs, the Deep Freeze bundle also includes 1000 V-bucks for you to spend on the in-game Item store. You can use this virtual currency to buy skins and items currently featured on the in-game market or you can easily get yourself the Battle Pass which unlocks content that is exclusive to the present season. More than that, the same stash of V-Bucks can help you save for the Battle Bundle which includes the Battles Pass and immediately unlocks 25 tiers along with all the content they bring.
How do I redeem a Fortnite code on PS4?
• On the PS Dashboard select the PlayStation Store option;
• Scroll down below and click the Redeem Codes button;
• Enter the purchased key code;
• Press Continue to go to the next page;
• Click Confirm to finish the redemption process.
Finally, you can continue upon expanding your in-game locker furthermore by visiting our Fortnite Skins collection!
Pozostałe szczegóły
Języki

Data wydania

15 listopada 2018

Wydawca

Epic Games

Deweloperzy

Epic Games