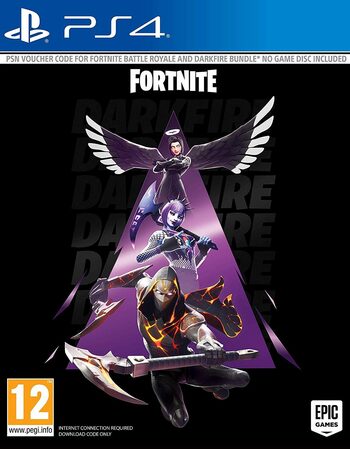 Fortnite: Darkfire Bundle (DLC) (PS4) PSN Key UNITED STATES
Udostępnij komuś, komu to się spodoba!
Najtańsza oferta
Kup jako prezent
Otrzymaj ten produkt jako prezent PDF.
Szukasz dobrych okazji?
Otrzymuj je na swoją skrzynkę odbiorczą
Dostępne przy płatności:
Stany ZjednoczoneMoże być aktywowany w

Stany Zjednoczone Ameryki

Klucz cyfrowy

To jest cyfrowa wersja produktu (CD-KEY)

Natychmiastowa dostawa
Ważna uwaga:
The base game Fortnite for PS4 is required in order to activate the code.
Opinie: 0
Fortnite Darkfire Bundle (DLC) (PS4)
Buy Fortnite Darkfire Bundle DLC key and you will get your hands on:
• Three Legendary Outfits;
• Three Legendary Back Blings;
• Three Rare Dual-Wielding Pickaxes;
• Three Epic Wraps;
• An Emote.
For this one, Fortnite partnered with Warner Bros to give the players a new thing to be excited about. Be it skins to polish your character's look, or maybe you want additional emote to show off your excitement in the most opportune time, all that and more will be readily available at the release of the bundle. And this is the time to secure yours!
Innovative play
Over the last couple of years, battle royale games became exceedingly popular, so buy Fortnite Darkfire Bundle DLC key and delve right into the heart of this subgenre. Competing with 99 other people is only half of the job. You also have to avoid deadly environmental danger and ever-shrinking play area. But not all is bleak since you have the ability to build a temporary shelter for yourself, in order to escape direct hits. Or, maybe you want to stay up high with your rifle and thus a tower is your best bet? But be smart because everyone here is out to win.
Cosmetic wars
But victory is not the only satisfaction you can achieve in this game. Buy Fortnite Darkfire Bundle DLC key and feel like royalty. Simply put, there's a way you can sweeten your victory, and that is by dressing your avatar in splendid skins and marvel at how you stand out from the masses. Sure, your bright attire might turn you into a good target, but with great fashion comes great dangers – and that's what makes it exciting! So, grab your new skins, buy additional ones if the need strikes, get ready to hunt and don't forget that bold strategy is just as rewarding as a stealthy one!
How do I redeem a Fortnite code on PS4?
• On the PS Dashboard select the PlayStation Store option;
• Scroll down below and click the Redeem Codes button;
• Enter the purchased key code;
• Press Continue to go to the next page;
• Click Confirm to finish the redemption process;
• Items should now appear in your Fortnite Locker!
Interested in more Fortnite offers? Head to Fortnite Skins collection and explore a huge selection of exclusive Fortnite outfits and items!
Pozostałe szczegóły
Języki

Data wydania

5 listopada 2019

Wydawca

Epic Games

Deweloperzy

Epic Games