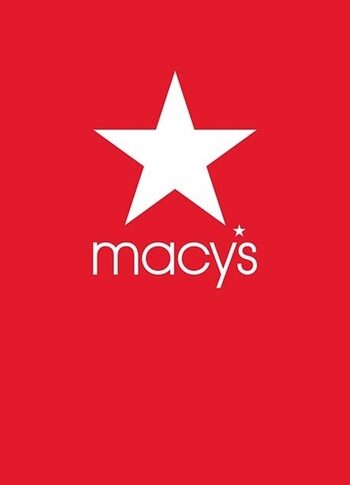 Macy's Gift Card 25 USD Key UNITED STATES
Udostępnij komuś, komu to się spodoba!
Stany ZjednoczoneMoże być aktywowany w

Stany Zjednoczone Ameryki

Sprawdź

Klucz cyfrowy

To jest cyfrowa wersja produktu (CD-KEY)

Natychmiastowa dostawa
Ważna uwaga:
Macy's Gift Cards can be redeemed at any Macy's store or online at macys.com.
Może ci się również spodobać
Opis produktu
Macy's Gift Card 25 USD
When shopping at Macy's, you'll be fascinated with a dazzling array of trendy clothes and shoes for men, women, and children, must-have accessories, cozy household goods, and much more. Indulge in a little shopping extravaganza, upgrade your wardrobe and home, or discover the perfect treat for a loved one. Browse and take advantage of Macy's tremendous collection of shopper's delights with a cheaper Macy's gift card! So why wait? Buy Macy's 25 USD gift card key right away and let your inner shopper loose!
What can I use Macy's gift card for?
At Macy's, you can go on an entire shopping spree with their wide assortment of items for you and your home. Here's what you can buy with a Macy's card:
• Clothing. Discover the newest trends in formal and casual fashion and sportswear for men, women, and children;
• Shoes. Browse a huge array of shoes for each and every occasion, including formal shoes, boots, sandals, and sleek and stylish sneakers;
• Accessories. Level up your style with jewelry, handbags, wallets, caps, and scarves that will elevate any outfit;
• Beauty products. Pamper yourself with high-quality beauty items, such as makeup, skincare, haircare, and scent;
• Home decor and appliances. Macy's collection of home goods, like furniture, bedding, kitchenware, and decor items, can help you design a comfy and trendy home;
• Bed and bathroom items. Upgrade your bedtime and bathroom routine with cozy blankets, fluffy towels, and premium bathroom fixtures;
• Home electronics. Macy's offers a wide assortment of electronic devices, including smartphones, computers, TVs, and more;
• Mattresses. Get a good night's sleep with one of Macy's comfortable and supportive memory foam, innerspring, and hybrid mattresses;
• Jewelry. Add some flair to your life with fine and fashionable jewelry like earrings, necklaces, bracelets, and more;
• Cheap Macy's gift card price.
It's always better with Macy's card!
Head down to Macy's online store when you're in need of a new outfit, electronic device, furniture, or even something as small as a little decor piece to liven up your apartment. Macy's got a huge collection of the trendiest clothes, jewelry, accessories, home decor items, and more. Check out the best Macy's gift card deals and take advantage of the store's catalog with Macy's 25 USD gift card key! Shop at Macy's cheaper. Whether you're looking to replace a broken item or you're in the mood to treat yourself – you'll spend less with a cheaper Macy's voucher!
How to redeem Macy's gift card?
Macy's gift card redeem process is fast and simple, and you can activate your Macy's voucher online and on mobile. Just follow these steps:
• At checkout, click on Apply gift cards option;
• Enter your Macy's card code;
• Enter the card's security number in the CID field;
• Check that you're not a robot and click Apply.
Pozostałe szczegóły
Data wydania

1 stycznia 2020