The Sims 4: My First Pet Stuff (DLC) Origin Key GLOBAL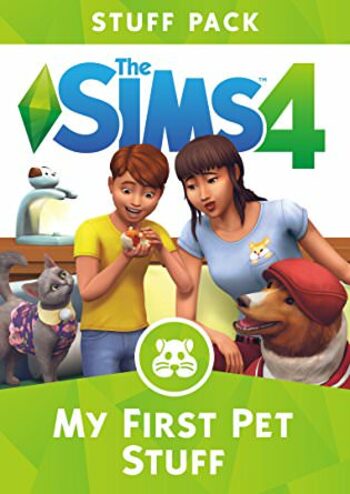 The Sims 4: My First Pet Stuff (DLC) Origin Key GLOBAL
Udostępnij komuś, komu to się spodoba!
Najtańsza oferta
Dostępne przy płatności:
Cały światMoże być aktywowany w

Stany Zjednoczone Ameryki

Klucz cyfrowy

To jest cyfrowa wersja produktu (CD-KEY)

Natychmiastowa dostawa
Opinie: 0
Opis produktu
The Sims 4: My First Pet Stuff (DLC) Origin Key
Sims 4: My First Pet Stuff (DLC) Origin key brings the fourth sequel to one of the most favorite and beloved real-time, real-life simulations ever! Create and customize your own character, build a house, find a job — make a career, surround yourself with loving family and neighbors, involve in numerous daily activities, or do whatever else you can think of, it's The Sims 4 after all.
If you like animals, then The Sims 4: My First Pet Stuff (DLC) Origin key is just for you! Bring a new small cat or dog to your home and show them the love they deserve. In this DLC, you can teach Sims to care for animals. Also, you can decorate your home with pet-inspired furniture and dress pets in new outfits.
The Sims 4: My First Pet Stuff (DLC) features
• Caring for a pet. Get ready to get various small pets, such as hamsters, rats, pygmy hedgehogs, or mini bubalus. Let Sims name them. Don't forget to teach them how to take care of small pets;
• Dressing your pets. Match Sims and pets outfits, such as robes and pajamas. You can even put a dress on your cat, or a hat on your dog;
• Decorating your home. Decor Sim's house with unique, pet-inspired furniture for the kids' room. Cute cat pillows for children and bright beds for cats. You will be pleased either way;
• Cheap The Sims 4: My First Pet Stuff (DLC) price.
Stretch, Bend and Drag customization techniques
One of the Sims 4 key characteristics as to why the Sims series has always been so fun, is their character creation menu and Sims 4 is no exception. The new Create-a-Sim tool allows you to basically become a sculptor and bend your Sim in almost any physical form and shape: you can click, drag, and manually tweak almost every aspect of your creation. House customization options are as vast as it gets or at least as vast as the Create-a-Sim tool. Not only can you customize every corner of your household, but you can also pick from already premade components or even better: download a pre-made blueprint from online storage, where players from all over the globe put their ideas into practice. Raise or lower the very foundations of your house or stretch and drag the edges of your walls if you lack some space.
Do Sims feel something?
They do now! And they feel not just something, with The Sims 4 key, they feel a lot. Traits and aspirations are back, and while they are fun and useful, this isn't about them. The latest edition presents a pack of emotions that now are the key factors in control whenever you do not interfere. There are many triggers to put your Sim in a certain emotional state, and these will have wide-range implications over the course of your game.
Sims are developing in more than one way!
Last but not least, buy The Sims 4 key and enjoy the added elements of multitasking abilities. No longer will your Sims awkwardly drink coffee and only after the cup is empty will start communing. You will feel this much-desired mechanic right off the bat, and it makes the overall gameplay much smoother and more coherent.
Wymagania systemowe
Minimalne wymagania systemowe
Wymagania systemowe

Windows XP (SP3) / Windows Vista (SP2) / Windows 7 (SP1) / Windows 8 / Windows 8.1

Procesor

1,8 GHz Intel Core 2 Duo / AMD Athlon 64 Dual-Core 4000+

Pamięć

2 GB RAM

Grafika

128 MB VRAM - NVIDIA GeForce 6600 / ATI Radeon X1300 / Intel GMA X4500

Miejsce na dysku

10 GB
Zalecane wymagania systemowe
Wymagania systemowe

64 Bit Windows 7,8, or 8.1

Procesor

Intel Core i5-750 or AMD Athlon X4

Pamięć

4 GB RAM

Grafika

NVIDIA GeForce GTX 650

Miejsce na dysku

10 GB
Pozostałe szczegóły
Języki

Angielski

Francuski

Niemiecki

Rosyjski

Włoski

czeski

hiszpański, kastylijski

japoński

koreański

polski

Data wydania

14 marca 2018

Wydawca

Electronic Arts Inc.

Deweloperzy

EA Games

Działa na