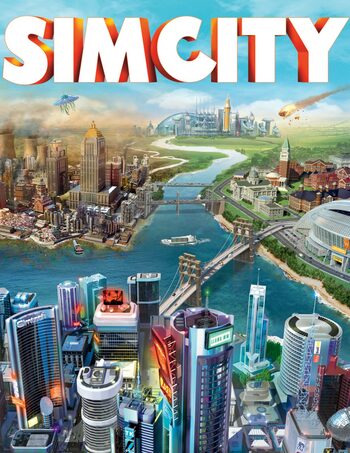 SimCity (Digital Deluxe Edition) Origin Key GLOBAL
Cały światMoże być aktywowany w

Stany Zjednoczone

Klucz cyfrowy

To jest cyfrowa wersja produktu (CD-KEY)

Natychmiastowa dostawa
SimCity (Digital Deluxe Edition) key
SimCity (Digital Deluxe Edition) key offers an opportunity to build your pitch-perfect city, the choices you make will shape it in different ways, along with the sims living in it! There are multiple outcomes to your decisions, vast infrastructure may lead to poor health and high mortality rates of your society, while implementing eco-friendly nature may lead to high tax and low employment ratio. SimCity world is lively, robust, and very responsive! Take care on your quest for the better tomorrow!
SimCity (Digital Deluxe Edition) key features:
• Signature Landmarks from all across the globe will provide your city with spices and flavour from all over the 7 continents, be amazed and amaze others with the most beautiful man-made wonders of the world!
• Landmarks will affect your city, your streets, in fact, everything surrounding the landmark! Not to mention that the tourism levels will sky-rocket and you'll be able to grab those much-needed bucks!
• Along with the Signature Landmarks and their effects, with SimCity (Digital Deluxe Edition) key, you'll also receive new means of transportation such as double-decker buses from London, and High-Speed German trains!
---
Szczegóły gry
Ograniczenia 7+

Single player

Multi player

Bird-view
---
Gatunek:
Działa na:
Języki:
Portuguese-Brazil
Traditional Japanese
czeski
duński
fiński
francuski
holenderski
japoński
koreański
norweski
polski
rosyjski
szwedzki
węgierski
włoski
---
Data wydania:
March 6, 2013
Wydawca
Electronic Arts Inc.
---
Wymagania systemowe:
Minimalne wymagania systemowe
Wymagania systemowe: Windows XP/Vista/7
Procesor: AMD Athlon 64 X2 Dual-Core 4000+ or better or Intel Core 2 Duo Processor 2.0GHz or better
Pamięć: 2GB
Grafika: ATI Radeon HD 2600 or better*, NVIDIA 7800 or better*, Intel HD Graphics or better
Miejsce na dysku: 12GB