Yoshi's Crafted World (Nintendo Switch) eShop Key UNITED STATES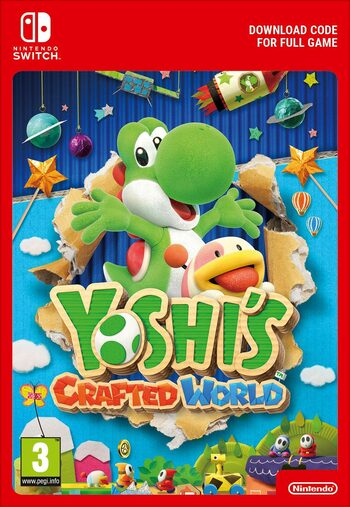 Yoshi's Crafted World (Nintendo Switch) eShop Key UNITED STATES
Udostępnij komuś, komu to się spodoba!
Najtańsza oferta
Dostępne przy płatności:
Stany ZjednoczoneMoże być aktywowany w

Stany Zjednoczone Ameryki

Klucz cyfrowy

To jest cyfrowa wersja produktu (CD-KEY)

Natychmiastowa dostawa
Opinie: 0
Opis produktu
Yoshi's Crafted World (Nintendo Switch) key
Yoshi's Crafted World is a side-scrolling platformer game developed by Good-Feel and published by Nintendo. Yoshi's Crafted World key brings the eighth instalment to the series in order to crown the captivating adventure of Yoshi once and for all! If you're one of the millions of the franchise fans, this title right here certainly deserves your utmost and unprecedented attention!
Storyline
Buy Yoshi's Crafted World key and immerse in the world of magic, adventure, and discovery. On Yoshi's island, on the very topmost peak, there lies an artefact known as the Sundream Stone – this captivating jewel is said to possess the power to make one's wildest dreams into reality. However, one day the culprits Kamek and Baby Bowser decide to steal the stone, luckily, they fail, but the jewel gets scattered all throughout the world – now it's your duty to retrieve the missing pieces!
Gameplay
With Yoshi's Crafted World key, you'll get to explore the wondrous 2.5D environments, and control full 3D characters in them. The levels which you'll have to walk through can be done both forwards and backwards! Why? Because the game offers numerous ways to interact with your environment, and who knows, maybe by going forward, you've missed on some important detail – having the ability to go back is simply an outstanding addition!
Neat Features
Buy Yoshi's Crafted World key and experience a whole plethora of various neat features. Fight against some of the most ingenious enemies you've ever seen, complete obstacles that you didn't even think to exist, and even call up a friend in case the experience goes out of hand! Yoshi's game offers 2-player cooperative exploration, and if anything's more fun than playing Yoshi's Crafted World, it's playing it alongside a trusty friend!
Pozostałe szczegóły
Języki

Data wydania

11 marca 2019

Wydawca

Nintendo

Deweloperzy

Nintendo