Nintendo eShop Card 5 USD Key UNITED STATES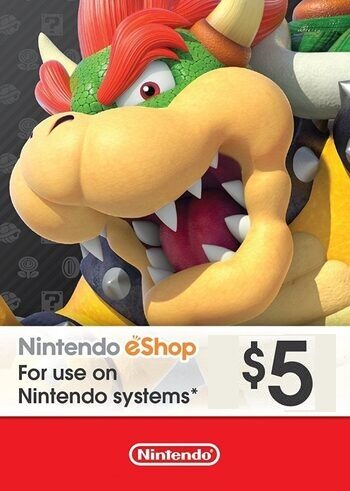 Nintendo eShop Card 5 USD Key UNITED STATES
Udostępnij komuś, komu to się spodoba!
Stany ZjednoczoneMoże być aktywowany w

Stany Zjednoczone Ameryki

Klucz cyfrowy

To jest cyfrowa wersja produktu (CD-KEY)

Natychmiastowa dostawa
Ważna uwaga:
No expiration date. Redeemable for United States Nintendo accounts (only USD currency).
Może ci się również spodobać
Opis produktu
Nintendo gift card 5 USD
It's really hard to think of a more generous gift for a Nintendo fan than the Nintendo gift card 5 USD. Of course, there's nothing stopping you from getting this Nintendo code for your own needs. After all, Nintendo eShop gift cards are known for their convenience, easy use and the safety they provide. For example, by using a Nintendo voucher you are free from the necessity to enter your bank account details on Nintendo digital storefront. Shopping is made smooth, instant, effortless and that's just the beginning of all the benefits 5 dollar Nintendo card brings along!
Shopping at your own pace
Anyone who has purchased a Nintendo voucher before will tell you that one of the best qualities of the Nintendo gift card 5 USD is the lack of expiry date. This means that you are free to use the funds provided by this Nintendo card whenever you like and without worrying about any sort of a deadline. Buy it now and feel free to keep it for yourself indefinitely. Another alternative is to save the Nintendo card for a special occasion and use it to surprise a fellow Nintendo gamer you happen to know on their birthday or winter holidays.
Pay less and gain more
The lack of expiration date coupled with the fact the Nintendo gift card 5 USD doesn't have a fixed, predetermined price can quickly show you how the Nintendo voucher actually serves as a means of saving. Very often you can buy Nintendo card cheaper than the value it provides on Nintendo eShop. Buy one now so you wouldn't need to spend more in the future and enjoy the new possibilities on Nintendo digital storefront while spending less at the same time!
Functionality as a gift
Just as the name implies, the original purpose of the Nintendo gift card 5 USD is for it to be given away as a present. One thing should be made clear – the Nintendo Switch owners are not the only ones who can benefit from the Nintendo eShop voucher. Anyone with a Nintendo Account, including the users of Nintendo Wii U, Nintendo 3DS, or Nintendo 3DS XL gaming systems can put the funds included in this Nintendo card to good use, making this purchase a perfect chance to expand the horizon of possibilities of any Nintendo fans you care about!
In order to successfully redeem any Nintendo code be sure to follow the instructions given below:
• Select the

Nintendo eShop

icon on the Home menu;

• Log in with the Nintendo Account that you want to use;

• Select

Enter Code

on the left side of the screen;

• Enter your 16-character activation code;

• Press

Redeem Download Code

;

• Enjoy your Nintendo gift card 5 USD!
Pozostałe szczegóły
Data wydania

3 marca 2017

Wydawca

Nintendo

Deweloperzy

Nintendo