Five Guys Gift Card 15 USD Key UNITED STATES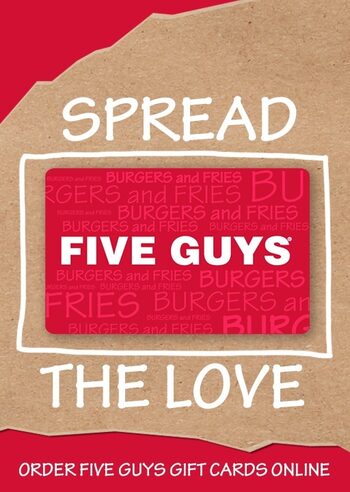 Five Guys Gift Card 15 USD Key UNITED STATES
Udostępnij komuś, komu to się spodoba!
Stany ZjednoczoneMoże być aktywowany w

Stany Zjednoczone Ameryki

Klucz cyfrowy

To jest cyfrowa wersja produktu (CD-KEY)

Natychmiastowa dostawa
Ważna uwaga:
No expiration date. Code is valid only in the United States.
Może ci się również spodobać
Opis produktu
Five Guys Gift Card 15 USD UNITED STATES
With a Five Guys gift card, treat yourself to a mouth-watering dining experience with delicious burgers, fries, and refreshing drinks. Enjoy a variety of menu items like juicy burgers, savory hot dogs, and crunchy fries, all served with your favorite sides and drinks. Indulge in signature milkshakes, soda, and other beverages to perfectly complement your meal. Whether you're craving some fast food, planning a meet-up with friends and family, or just looking to grab a quick bite for lunch, a Five Guys gift card is the perfect way to pay for your meal. Enjoy a memorable night out with friends and family, sharing delicious food and drinks in a fun and lively atmosphere. With a menu for every taste, a Five Guys gift card offers convenience and flexibility for any occasion. So buy Five Guys 15 USD gift card today and enjoy your favorite meals cheaper!
What can I use the Five Guys gift card for?
With a Five Guys gift card, you can enjoy:
• Burgers. Sink your teeth into a classic American favorite - the burger! With a juicy grilled beef patty served on a soft bun and topped with fresh lettuce, ripe tomato, melted cheese, onions, and your choice of condiments like ketchup, mustard, or mayo;
• Sandwiches. Indulge in a classic BLT or try their veggie sandwich for a healthier option. Don't forget to taste their grilled cheese sandwich too!
• Fries. Five Guys' fries are famous for being perfectly crispy and fluffy, with two flavors to choose from: classic or Cajun;
• Hot dogs. Sink your teeth into a juicy hot dog available in classic kosher-style or wrapped in savory bacon for an extra burst of flavor;
• Drinks. Choose a refreshing drink like Coca-Cola, or go for a delicious milkshake.
It's always better with Five Guys gift card!
Looking for a fun and exciting way to spend a night out with friends? A Five Guys is a perfect choice. With a wide range of delicious menu options, there's something for everyone to enjoy, from burger lovers to hot dog aficionados. With a lively atmosphere and an extensive menu of food and drinks, Five Guys is the ideal destination for a quick bite or a friend gathering. Whether you are catching up with old friends or grabbing a quick bite, savor the mouth-watering flavors with a Five Guys gift card. Buy a Five Guys 15 USD gift card key and enjoy your favorite burgers, hot dogs, and drinks!
How to redeem the Five Guys gift card?
Here is how to redeem your Five Guys 15 USD gift card key:
• Show your Five Guys voucher code when you're paying for your order.
Pozostałe szczegóły
Data wydania

2 marca 2018

Wydawca

Five Guys

Deweloperzy

Five Guys