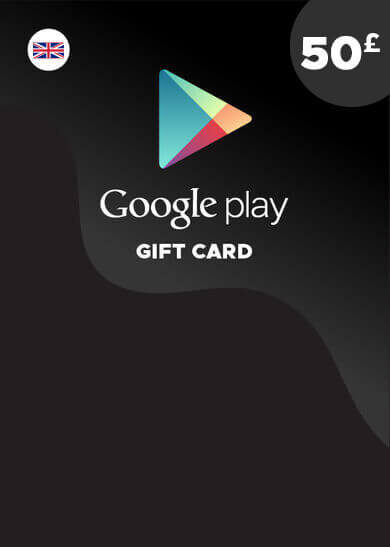 Google Play Gift Card 50 GBP (UK) Key UNITED KINGDOM
Can't be activated in United States
Important Notice:
No expiration date. Code is valid only for the UNITED KINGDOM account.
Google Play Gift Card 50 GBP UNITED KINGDOM
Buy Google Play Gift Card 50 GBP UK and experience Google Play like never before. A great array of services is at your fingertips, including movie renting, digital books and music streaming, and all of it can be covered without taking your credit card out of the wallet.
Entertainment
Anything and everything you might need for a nice and cosy evening or a wild fun-filled gathering of friends can be found in Google Play libraries. You want some music to accompany your family dinner? Pick a genre – classical, pop or even rock – and select what songs you want to include in your playlist. After, buy Google Play Gift Card 50 GBP UK, subscribe to the music service and you will have access to create private sets with your selection, and you will even be able to listen to your chosen songs while offline! Everyone wins, and your device becomes a mobile radio station that plays only the best hits!
Private cinema
Maybe you missed the latest addition to your favourite film franchise? Or perhaps you have a sudden desire to have a marathon of childhood animated movies? Whatever your plans might be, Google Play movies has your back! With a great variety of movies up for grabs, all you need is to buy Google Play Gift Card 50 GBP UK and you are free to pick that which catches your fancy: comedies, dramas, documentaries or any other genre. And if you don't want to buy the movies, there is an option to rent it. Not only will it save you some money, you can also test out the movie by first seeing if you truly like it (since you can always buy it later).
Google wallet
And maybe you are not quite certain where you wish to spend your funds, and that's fine too! There is always an option to simply increase your wallet. Once you Google Play Gift Card 50 GBP UK, the process is easy. Redeem the code, boost your funds and that's it! After this, you can wait for a brand-new entertainment to come out, or maybe there's an app whose release it just around the corner – but you will be prepared, with virtual currency ready to cover your expenses.
---
Release date:
January 1, 2010
---