Valorant Gift Card - 2175 Valorant Points - NEW ZEALAND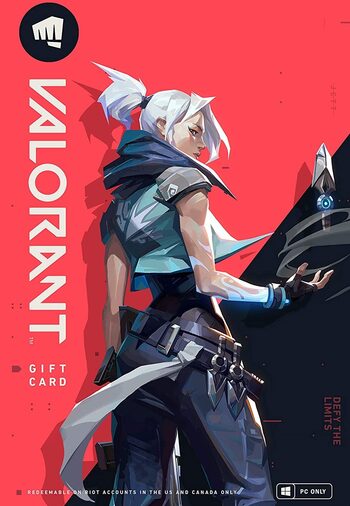 Valorant Gift Card - 2175 Valorant Points - NEW ZEALAND
Kongsi dengan seseorang yang sukakannya!
Tawaran termurah
Mencari tawaran menarik?
Dapatkan tawaran hebat terus ke peti masuk anda
Tersedia semasa pembayaran:
New ZealandTidak boleh diaktifkan di

Amerika Syarikat

Kunci digital

Ini ialah edisi produk digital (CD-KEY)

Penghantaran segera
Notis penting:
No expiration date. Code can be used to get Valorant Points in Valorant. For Turkey servers only!
Penerangan produk
Valorant Gift Card - 2175 Valorant Points
It doesn't matter if you are an old Valorant fan or just thinking of getting into it, we offer you a Valorant Gift Card deal at a cheaper price. With it, lots of amazing goodies for you will be unlocked! Valorant Gift Card – 2175 Valorant Points is the perfect present for anyone playing Valorant game or trying it for the first time. It unlocks in-game currency that can be used to purchase various amazing things, like weapon skins, and also it can unlock new agents.
What is Valorant Gift Card?
Valorant Gift Card – 2175 Valorant Points is a card that unlocks an in-game currency in Valorant. With it, you won't need a credit card or bank account. With that currency, you can buy weapon skins or unlock new agents. You can either use the card for yourself or gift it to your friend. Valorant Gift Card – 2175 Valorant Points can be redeemed by entering the card's pin code in Riot's store.
Things to keep in mind
Keep in mind that Valorant Gift Cards are PC-Only and are region locked, hence you will be able to redeem the Valorant prepaid card only in certain servers that are from the region you bought the card. Upon purchasing your cards, remember to keep the card and the store receipt until you are able to verify that you have successfully redeemed the card. If any error occurs with the redemption process, your card and store receipt are vital in further investigating the issue.
Activation guide
To successfully redeem your prepaid card in Valorant, you must follow these steps:
• Log into the Valorant game client;
• Click on the Valorant icon located to the right of the Store tab;
• Select Prepaid Cards and Codes;
• Input the code provided for your card;
• Press Submit;
• Enjoy your Valorant Points!
Butiran lain
Tarikh keluar

5 September 2023

Penerbit

Riot Games

Pembangun

Riot Games