Uber Eats Gift Card 75 GBP Uber Key UNITED KINGDOM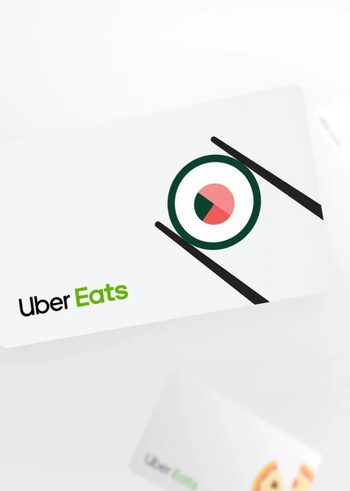 Uber Eats Gift Card 75 GBP Uber Key UNITED KINGDOM
Kongsi dengan seseorang yang sukakannya!
Tawaran termurah
Mencari tawaran menarik?
Dapatkan tawaran hebat terus ke peti masuk anda
Tersedia semasa pembayaran:
United KingdomTidak boleh diaktifkan di

Amerika Syarikat

Kunci digital

Ini ialah edisi produk digital (CD-KEY)

Penghantaran segera
Penerangan produk
Uber Eats Gift Card 75 GBP
Everyone loves to eat some delicious food, and it's only better when you can order your meal online and get it delivered quickly! But what's even more remarkable, is that now you can save some precious money! Buy Uber Eats 75 GBP gift card key as the ultimate gift of convenience since it allows you to order takeaway from your favorite local spots only in a few clicks! Get ready to immerse yourself into the world of delicious tastes with a freshly cooked meal for every occasion, including late nights at home or casually treating yourself to a quick, easy, and tasty treat in just a few minutes! This Uber Eats is the best gift for anyone. Jump into a wide selection of menus from the best local restaurants and choose the best dish for today delivered directly to your home, only in a few clicks!
What can I use the Uber Eats gift card for?
Take a look at these features of Uber Eats that will please your hunger:
• Perfect for business deliveries. Make your workmates happy, motivate your employees and remote workers with fast deliveries of food from various restaurants;
• Meals for any occasion. If you are working in the office, then with Uber Eats, create a meal program, and let your people get their favorites delivered right to the door.
• Available in most countries and cities. Place a group order for your co-workers. And don't forget food for virtual meetings, holiday celebrations, and workshops. Place an order from Uber Eats and cover the cost of meals for your team.
• Suitable for gifts. It's always a good idea to treat your family, friends, or partners with the Uber Eats gift card for every occasion, from birthdays to anniversaries!
• Cheap Uber Eats gift card price.
How to send an Uber Eats gift card?
• Select a card type. Fill in the recipient of your card and pick your desired type of gift card. Uber Eats offers both physical and digital cards, but when buying gift cards from third-party resellers such as Eneba, you can only choose digital ones, which are always cheaper here!
• Choose your design and amount. Uber Eats offers various designs for your card. Select the amount that you want to transfer in the gift;
• Send your food card. Fill in the recipient's information, add a personalized message, and send it instantly!
It's always better with Uber Eats!
Keep in mind that with Uber Eats 75 GBP gift card key, you will get the best service since they always improve it. Get ready to be satisfied with your favorite dishes instantly together with Uber Eats at a cheaper price today! Amazingly tasteful meals from well-known brands for your everyday life, various occasions, and business await you to enjoy. With Uber Eats 75 GBP gift card key you can be sure to get the best shopping experience of getting food delivered right to your door. Enjoy cheap Uber Eats 75 GBP gift card price, and always look at third-party resellers, such as Eneba, since we offer gift cards at the cheapest price!
How to activate an Uber Eats gift card?
To redeem a gift card, follow these steps:
• Always use the latest Uber Eats app or the website;
• Go to the menu Account tab and select "Wallet";
• Press "Add Payment Method" and select "Gift Card";
• Enter your gift code (no spaces).
Butiran lain
Bahasa

Tarikh keluar

19 Jun 2018

Penerbit

Uber Technologies Inc

Pembangun

Uber Technologies Inc