Kerbal Space Program 2 (PC) Epic Games Key GLOBAL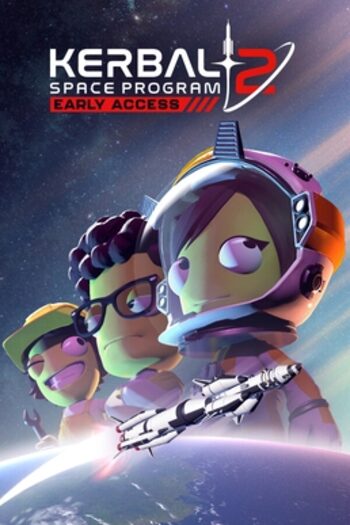 Kerbal Space Program 2 (PC) Epic Games Key GLOBAL
Kongsi dengan seseorang yang sukakannya!
Tawaran termurah
Mencari tawaran menarik?
Dapatkan tawaran hebat terus ke peti masuk anda
Tersedia semasa pembayaran:
GlobalBoleh diaktifkan di

Amerika Syarikat

Kunci digital

Ini ialah edisi produk digital (CD-KEY)

Penghantaran segera
Ulasan: 0
Penerangan produk
Kerbal Space Program 2
Freshen up your library of games with another remarkable title of the sandbox genre, where experience exceeds all expectations! You simply can't miss out on the decision to buy Kerbal Space Program 2 key. Developed by Intercept Games and brought to you by Private Division, this game, available on Epic Games, presents entertainment of a grand scale, smoothly intertwining classic and innovative gameplay features to deliver an unforgettable sandbox experience. Buy Kerbal Space Program 2 Epic Games key and be prepared for hours of gameplay that puts your skills on trial! Are you ready for the vibrant and rewarding experience that awaits you?
Sandbox genre
If you're a player that doesn't want to be limited by boundaries and rules set in the game's world, try out the sandbox genre. Kerbal Space Program 2 Epic Games key will help you unleash your imagination. Explore countless possibilities while travelling through the limitless map and engaging in unrestricted activities. Exploit the power of your own choices and see how exhilarating it feels. It's the kind of freedom that you won't get to exercise in any other universe. Do whatever you feel like and never worry about the outcome.
Features
Interested in Kerbal Space Program 2 key but don't know what to expect? Here's a list of the key features and gameplay mechanics included in this title:
• Atmospheric setting – The game combines an amazing score with breathtaking visuals for an immersive experience;
• Building – Players can indulge in some architectural creativity by utilizing various construction tools at their disposal;
• Difficult – You have to earn victories by overcoming intentionally hard obstacles and gameplay mechanics;
• Exploration – This title heavily focuses on travelling to uncharted locations and discovering secrets;
• Funny – This title emphasizes fun via intentionally humorous designs and story choices;
• Physics – The world was created according to the fundamental principles of physics;
• Sci-fi setting – The game explores a futuristic, technologically advanced world and all it entails;
• Simulator – You can do things that you can't do in the real world via simulations;
• Singleplayer – Players can engage with the story of the solo campaign;
• Space setting – You get to explore the seemingly endless galaxy and visit faraway planets, star systems, and more;
• Cheap Kerbal Space Program 2 key price.
Keperluan sistem
Keperluan sistem minimum
Sokongan 64bit

Ya

Keperluan sistem

Windows 10 64-bit

Pemproses

AMD Athlon X4 845 @3.5 GHz or Intel Core i5 6400 @ 2.7 GHz

Memori

12 GB RAM

Grafik

nVidia RTX 2060 w/ 6GB VRAM, nVidia GTX 1070 Ti w/8GB VRAM, AMD Radeon 5600XT w/ 6GB VRAM

Penyimpanan

45 GB
Butiran lain
Bahasa

Bahasa Inggeris

Bahasa Itali

Bahasa Jerman

Bahasa Perancis

Spanish - Spain

Tarikh keluar

24 Februari 2023

Penerbit

Private Division

Pembangun

Intercept Games