WWE 2K23 for Xbox One Key UNITED STATES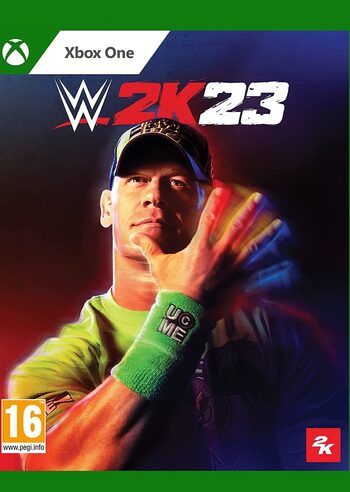 WWE 2K23 for Xbox One Key UNITED STATES
Share with someone who would like this!
Egyesült ÁllamokAktiválható itt:

Amerikai Egyesült Államok

Check

Digitális kulcs

Ez a termék a(z) (CD-KEY) fizikai kiadása

Azonnali szállítás
Fontos közlemény:
We inform you that our PRE-ORDER bonuses may not be included and when included, may differ from the other offers available in the market. You will receive your product key upon the game's release date.
Vélemények: 0
Termékleírás
WWE 2K23 for Xbox One
Freshen up your library of games with another remarkable title of the simulator genre, where experience exceeds all expectations! You simply can't miss out on the decision to buy WWE 2K23 key. Developed by Visual Concepts and brought to you by 2K, this game, available on Xbox Live, presents entertainment of a grand scale, smoothly intertwining classic and innovative gameplay features to deliver an unforgettable simulator experience. Buy WWE 2K23 Xbox Live key and be prepared for hours of gameplay that puts your skills on trial! Are you ready for the vibrant and rewarding experience that awaits you?
Simulator genre
Slow-paced but incredibly satisfying, WWE 2K23 Xbox Live key will get you places. It can take you to the most incredible place as you have full control over what happens in the game, where you'll go, and what you'll do. Since it comes from the Simulator game genre, it lets you enjoy life-like situations with just a drop of fantasy. See how good you are at controlling a virtual world. Maybe you'll create chaos, maybe you'll put everything in place. Either way, no one will make any rules or objectives for you. Craft your own gameplay and enjoy the freedom!
Features
Interested in WWE 2K23 key but don't know what to expect? Here's a list of the key features and gameplay mechanics included in this title:
• 3D graphics – The world consists of three-dimensional models that can be rotated and viewed from all angles;
• Co-op – Complete missions by doing them together with friends;
• Full controller support – This title is entirely playable with a controller – there's no need for a mouse or keyboard;
• Multiplayer – You can participate in matches along with other players;
• PvP – You directly play against other player-controlled characters;
• Realistic graphics – Explore the gorgeous, highly realistic environments brought to life via lighting, detailed textures, and more;
• Singleplayer – Players can engage with the story of the solo campaign;
• Sports – You hone your skills, perform at competitions, and compete for the title of the best;
• Cheap WWE 2K23 key price.
Egyéb részletek
Nyelvek

Angol

Arab

Francia

Német

Olasz

Spanish - Spain

Megjelenés dátuma

2023. március 17.

Kiadó

2K

Fejlesztők

Visual Concepts