Tropico 6 El-Prez Edition Steam Key GLOBAL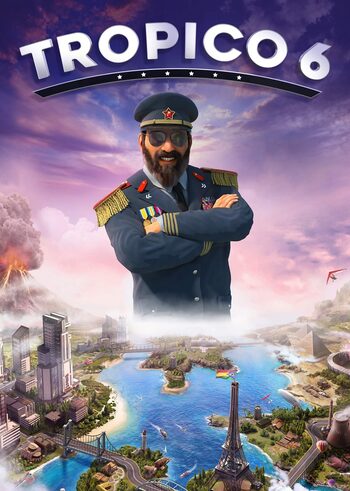 Tropico 6 El-Prez Edition Steam Key GLOBAL
Share with someone who would like this!
GlobálisAktiválható itt:

Amerikai Egyesült Államok

Check

Digitális kulcs

Ez a termék a(z) (CD-KEY) fizikai kiadása

Azonnali szállítás
Vélemények: 0
Termékleírás
Tropico 6 El-Prez Edition Steam key
Tropico 6 El-Prez Edition key unlocks a bunch of in-game goodies to enhance your experience even further! Enjoy the two exclusive tourists outfits for when you want to spend some quality time in your very own creation. Also, now you'll be able to build a pond right in your back yard, flamingos here live happily ever after, it's great for boasting! And that's not all!
Tropico 6 El-Prez Edition key also includes:
•Base Tropico 6 Game
•2 Tourist Outfits
•Flamingo Pond on your Palace
•Digital Soundtrack
•Digital Calendar
Tropico 6 Game
Tropico 6 key presents an RTS management sequel to Tropico series, Tropico 6 developed by Limbic Entertainment will turn your long-lasting dream into reality. Step in the shoes of El Presidente and start managing your republic as well as creating a dynasty of leadership from the very scratch throughout different eras of time. All hail the El Presidente for he has returned to bring prosperity, joy, and new adventures to our multiple tropic islands!
Become An Even More Powerful Leader
Get yourself a Tropico 6 key and become responsible for multiple islands for the first time in the franchise! Multiple islands mean multiple challenges, and multiple challenges mean multiple fun!
Managing multiple islands is the least of your concerns, as every two years your republic demands election, so make sure you don't have to pay the ultimate Tropico 6 key price and stand down because of not getting elected! Stand in your balcony and present marvelous inspiring election speeches, to light the fire in the hearts of your people again and again! Of course, if the promises that you've made do not really meet the actual reality, there are always other measures to stay in power!
What's New
With an exceptional focus to visuals, lighting, textures, and shading, Tropico 6 key looks better, brighter, and more majestic than ever. Also, if with all the captivating visuals, you feel that your Republic is lacking in character, you have an option to send your Tropicans to raid some neighboring countries and steal some Worldly Wonders! The Tropican Eiffel Tower is never a bad idea!
Rendszerkövetelmények
Minimális rendszerkövetelmények
Rendszerkövetelmények

Windows 7 64-bit

Processzor

AMD or Intel, 3 GHz (AMD A10 7850K, Intel i3-2000)

Memória

8 GB RAM

Grafika

AMD/NVIDIA dedicated GPU, 2GB dedicated VRAM (Radeon HD 7870, Gece GTX 750)

Tárhely

16 GB
Ajánlott rendszerkövetelmények
Rendszerkövetelmények

Windows 10 64-bit

Processzor

AMD or Intel, 3.3 GHz (AMD FX 8300, Intel i5 3000)

Memória

16 GB RAM

Grafika

AMD/NVIDIA dedicated GPU, 4GB dedicated VRAM (Radeon R9 380, Gece GTX 960)

Tárhely

16 GB
Egyéb részletek