Totally Accurate Battle Simulator (PC) Steam Key UNITED STATES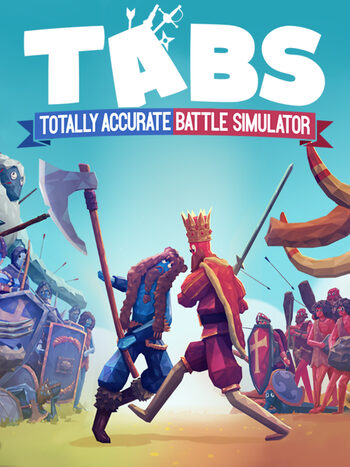 Totally Accurate Battle Simulator (PC) Steam Key UNITED STATES
Share with someone who would like this!
Egyesült ÁllamokAktiválható itt:

Amerikai Egyesült Államok

Digitális kulcs

Ez a termék a(z) (CD-KEY) fizikai kiadása

Azonnali szállítás
Vélemények: 0
Termékleírás
Totally Accurate Battle Simulator key
Totally Accurate Battle Simulator key brings an unremarkable sandbox fighting experience which you are certain to love from the very first battle! Developed and published by the Landfall, the title offers ludicrous, physics-based tactical battles spanning throughout different eras of our existence and evolution. Immerse in the most intense battles you've ever had the pleasure to witness by matching foes that could never face one another otherwise!
Game's Principles
In this crazed-up battle simulation game, war is everything, and every level, every match, and every encounter between the two opposing factions ends up in a maelstrom of arrows, thrown spears, lightning bolts, and a pile of dead characters. Buy Totally Accurate Battle Simulator key and become the omnipotent commander who's orchestrating the about-to-begin war from a strategic aerial view and relatively safe distance.
Roar of Battle
Buy out your troops and match them against some of the wildest opposition one could ever imagine. Place them in a scrupulous strategic manner and begin the spectacle! Once you choose your legion's representatives and draw the positioning scheme – the job's done for you, however, the job's just beginning for those following your command. Watch the goofy spectacle about violence and inequality of power; learn from your mistakes and get better!
Choice Variety
Buy Totally Accurate Battle Simulator key if you want entertainment that has no boundaries. Remember that old argument that you once had with your friends of 'who would win if X and X were fighting'? This title is about to answer it once and for all. Control everything from a Minotaur, to Zeus, to Stone Golems, Scarecrows, Trolls, Dwarves, Knights, and tons more! This game offers you the test playground of your dreams – who's going to be tested first?!
Rendszerkövetelmények
Minimális rendszerkövetelmények
Rendszerkövetelmények

Windows 7

Processzor

Intel Core i5-2400 @ 3.1 GHz or AMD FX-6300 @ 3.5 GHz

Memória

8 GB RAM

Grafika

NVIDIA GeForce GTX 670 or AMD R9 270 (2GB VRAM Shader Model 5.0)

Tárhely

3 GB
Ajánlott rendszerkövetelmények
Rendszerkövetelmények

Win 10

Processzor

Intel Core i7-4770 @ 3.4 GHz or AMD Ryzen 5 1600 @ 3.2 GHz

Memória

8 GB RAM

Grafika

NVIDIA GeForce GTX 970 or AMD R9 290X (4GB VRAM Shader Model 5.0)

Tárhely

3 GB
Egyéb részletek