Saints Row IV - Reverse Cosplay Pack (DLC) (PC) Steam Key GLOBAL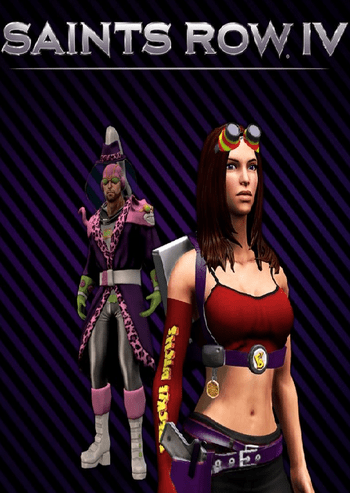 Saints Row IV - Reverse Cosplay Pack (DLC) (PC) Steam Key GLOBAL
Share with someone who would like this!
GlobálisAktiválható itt:

Amerikai Egyesült Államok

Check

Digitális kulcs

Ez a termék a(z) (CD-KEY) fizikai kiadása

Azonnali szállítás
Vélemények: 0
Termékleírás
Saints Row IV - Reverse Cosplay Pack (DLC) (PC) Steam Key
Wear the Genki Space Pimp outfit to end Zin filibusters in style, or don the Freckle Bitch's outfit to deliver justice the Saints way.
Every game begins its journey with a spark inside someone's mind, and Saints Row IV - Reverse Cosplay Pack (DLC) (PC) Steam key was no exception. Developers from Volition worked very hard and long to bring this idea to life and with the help of the publisher Deep Silver, the game launched on 2013-08-20 and was met with great excitement by many. Unwind after a long day or spend your leisure time with a good game in your hands that grants you a worthwhile gaming experience! Buy Saints Row IV - Reverse Cosplay Pack (DLC) (PC) Steam key at a great price and enjoy not only the set of enveloping gameplay features but also a memorable time spent!
Action-adventure genre
Combine intensive combat with problem-solving and you'll get an action-adventure game. Saints Row IV - Reverse Cosplay Pack (DLC) (PC) Steam key is one of these games and it's, therefore, a fun way to spend your time. Find yourself improving at both physical and intellectual abilities, such as reflexes, reaction times, logic and creativity. Make quick decisions, accurately identify your threats, take in clues along the way and solve various puzzles. It's fun, enthralling and dynamic all at the same time. If you're looking for something unique, this one is definitely for you!
Features
Don't be surprised if you find yourself playing with Saints Row IV - Reverse Cosplay Pack (DLC) (PC) Steam key for hours on end! It's bound to happen, especially since this title includes these features:
• Great soundtrack - The gameplay is accompanied by a soundtrack that echoes all the ups and downs happening in the game.
• Open world - Players can traverse stunning environments, meet colourful characters, and complete side content without limitations.
• Parody - This game pokes fun at the various aspects of the Action-adventure genre.
• Sci-fi setting - The game explores the fears and opportunities of the future of mankind.
• Funny - This title includes standout characters, intentional design and narrative choices that are humorous.
• Character customization - Players can modify various aspects of their chosen character such as appearance, equipment, skills, and more.
• Aliens - Creatures literally out of this world wander in various places.
• Singleplayer - The game features a solo campaign with a story.
• Online co-op - This feature allows You to connect with friends all over the world and complete missions together.
Rendszerkövetelmények
Minimális rendszerkövetelmények
Rendszerkövetelmények

Windows Vista

Processzor

Intel Core 2 Quad Q6600 / AMD Athlon II x3

Memória

4 GB RAM

Grafika

NVIDIA GTX 260 / AMD Radeon HD 5800

DirectX

10
Egyéb részletek