Pro Cycling Manager 2022 (PC) Steam Key GLOBAL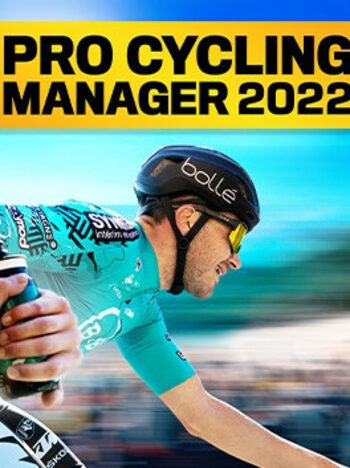 Pro Cycling Manager 2022 (PC) Steam Key GLOBAL
GlobálisAktiválható itt:

Amerikai Egyesült Államok

Digitális kulcs

Ez a termék a(z) (CD-KEY) fizikai kiadása

Azonnali szállítás
Vélemények: 0
Termékleírás
Pro Cycling Manager 2022
If you ever dreamt of becoming a real sports director and if you really like cycling, then the Pro Cycling Manager 2022 (PC) Steam key game by developers Cyanide Studio and publishers Nacon is just at your alley! Recruit, control the budget, and create your strategy with the help of the brand new system that lets to detect potential racers, as well as new options in the customization field. With this game, you will make all the important tasks for your team to reach the very top. Planning of objectives and programs of races, as well as business management, including looking for sponsors, finding young talents, training them, creating strategies that will be used during races, and that's not all!
Pro Cycling Manager 2022 features
Get ready to experience these features that will ensure a good time:
• Pro Cyclist mode. It will let you create your personal rider. With him, join other teams and prove your worth. Only your skills and knowledge will determine if you will become a true leader. Also, in online mode you can compete against other cyclists from all over the world;
• Scouting system. This feature will help to find the best young talents. You will send your team members to various regions where the best talents are waiting to be recognized. Over time, the level of your scouts will rise. You will constantly receive feedback about the characteristics of your potential and new talents. While using your development team, observation, and integration skills, you will decide on the fate of found talents, just don't forget that other teams are also doing scouting, so you have to be one step ahead;
• Young talents. The 6-star system will determine the quality of your new, young cyclists. The youngest riders are from 16 to 18 years old, and every year from 1,500 to 2,000 new talents will emerge, which is a three times bigger number than this game. The development of new talents will be similar to cyclists who are already big stars;
• Taking care of riders. The development system of the game now ensures that new, young talents could easily integrate into the team, developing healthy relationships in order to progress;
• A new approach towards races. In this game, you will experience more varied scenarios during races, together with action-driven races where well-known superstars are racing, and surprise attacks happen;
• Cheap Pro Cycling Manager 2022 (PC) price.
What more can you expect?
The Pro Cycling Manager 2022 (PC) Steam key offers an enhanced user interface that now can show a redesigned cyclist page with new statistics, riders' capabilities, results, and comparison of different cyclists' characteristics. Don't forget to keep in mind the stamina and resistance numbers of each rider, because it will be crucial during races. Each cyclist has its own strategy. The simulation time of the game is also optimized, resulting in being two times faster than ever before. And keep in mind specific team jerseys for each race. As you can see, with this game you won't get bored easily, so sharpen your managing skills and lead your team towards victory!
Rendszerkövetelmények
Minimális rendszerkövetelmények
64 bites támogatás

Igen

Rendszerkövetelmények

TBD
Egyéb részletek
Nyelvek

Megjelenés dátuma

2022. június 9.

Kiadó

Nacon

Fejlesztők

Cyanide

Ezen működik