Orcs Must Die! 3 Steam Key UNITED STATES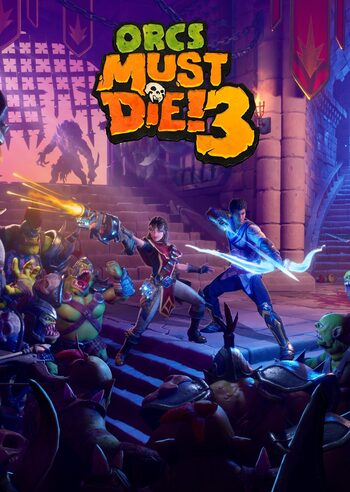 Orcs Must Die! 3 Steam Key UNITED STATES
Share with someone who would like this!
Egyesült ÁllamokAktiválható itt:

Amerikai Egyesült Államok

Digitális kulcs

Ez a termék a(z) (CD-KEY) fizikai kiadása

Azonnali szállítás
Vélemények: 0
Termékleírás
Orcs Must Die! 3 Steam Key
The award-winning Orcs Must Die! action-strategy series returns with another grand release by developers and publishers from Robot Entertainment. Orcs Must Die! 3 is a tower defence game that utilizes a myriad of gameplay elements to provide an action-packed and fast-paced gameplay experience for those that love action and enjoy mood booster games. Hordes of repulsive orcs await you, brave warrior, so grab your trusty weapon, buy Orcs Must Die! 3 Steam key and engulf yourself in one of the most frenzied adventures one can experience! Are you ready to tackle the most challenging obstacles and enemies? Then hop in.
What are Orcs Must Die! 3 features?
Action is a highly praised attribute to the Orcs Must Die! 3 key but that is not all the game can offer - here are some of the major gameplay features players can enjoy:
• Continued narrative. Those who are fans of the ongoing series can enjoy a narrative that is set 20 years after the events of Orcs Must Die! 2;
• Full-blown out war. If you want to war, then war you will get. Fight armies of orcs right and left, utilizing the rich arsenal of weapons and abilities at your disposition;
• Impressive arsenal. You won't face armies of orcs empty-handed, in fact, you can make use of disastrous and death-sowing weapons of mass destruction;
• Fast-paced gameplay. There is no time to catch your breath, it's all or nothing in this action-packed iteration of the famous series;
• Cheap Orcs Must Die! 3 price.
Orc-slaying mayhem at your home
If you feel like smashing your routine with a title that boosts both mood and your adrenaline levels. Orcs Must Die! 3 game embodies chaos, to put it simply. It's all about war, and, naturally, smashing those accursed orcs. But don't worry, although you will be bombarded by vast armies of those vile beings, you are a warrior worth a thousand soldiers on a field, especially with the vast arsenal at your disposal. The heat, the mayhem, the war cries, and the eternal glory followed by the defeat of every single orc. Sounds like something up your alley? Buy Orcs Must Die! 3 Steam key and begin your adventure!
Rendszerkövetelmények
Minimális rendszerkövetelmények
Rendszerkövetelmények

Windows 7

Processzor

Intel Core i5-2300 | AMD Ryzen 3 1200

Memória

6 GB RAM

Grafika

Nvidia GeForce GTX 660, 2 GB | AMD Radeon HD 7870, 2 GB

Tárhely

12 GB
Egyéb részletek
Nyelvek

Angol

Francia

Német

Olasz

Spanish - Spain

Megjelenés dátuma

2021. július 23.

Kiadó

Robot Entertainment

Fejlesztők

Robot Entertainment