Magicka 2 Steam Key GLOBAL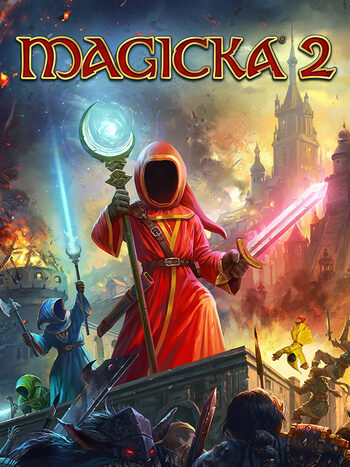 Magicka 2 Steam Key GLOBAL
Share with someone who would like this!
Sajnáljuk, elfogyott :(
Szeretnéd ezt a játékot? E-mailben értesíthetünk, ha újra kapható lesz.
Értesítés
GlobálisAktiválható itt:

Amerikai Egyesült Államok

Digitális kulcs

Ez a termék a(z) (CD-KEY) fizikai kiadása

Azonnali szállítás
Vélemények: 0
Termékleírás
Magicka 2 Steam Key
Magicka 2 key is said to offer the most irreverent co-op action adventure game on the market. In it, players leave the ruins of Aldrheim and get unleashed upon the almost destroyed Midgard, suffering from ruin due to the Wizard Wars, which wiped out almost all magic users. In this game, you will combine different elements, and have the option to unleash thousands of spells to reach your goal.
If you're seeking a action game that offers a different perspective and is entertaining to play, halt your search! Magicka 2 key, available on Steam, is an instantly atmospheric game that pulls you into the virtual world right away. Developed by Pieces Interactive with a generous hand and published by Paradox Interactive, the game boasts high-quality and smooth gameplay with features that challenge you and reward you with an unforgettable gaming experience. Buy Magicka 2 Steam key at a lucrative price and dive into another video game inspired by wild imagination and innovation that enriches the action genre and your personal experience!
Action genre
If you're looking for an action game to get your blood pumped, then Magicka 2 Steam key is for you! Constantly emerging opponents won't let you relax for a second. To beat them, you'll need to come to decisions with the highest speed and you'll have to detect threats with the most precise accuracy. Whether you're a beginner or an advanced player, you can always train to be better. This game is for those who want to become faster and sharper. As you develop these skills, you'll also be having a lot of fun!
Features
Innovative gameplay features are very important for an entertaining experience. Thankfully, Magicka 2 key includes plenty of them for you to enjoy!
• Adventure – You meet and interact with colourful characters, solve various puzzles, and explore the world;
• Co-op – Complete missions by doing them together with friends;
• Family-friendly – The game is appropriate for players of all ages;
• Story-driven – The game heavily focuses on presenting a compelling story above everything else;
• Top-down view – The player and their surrounding area are shown from above;
• Cheap Magicka 2 (PC) price.
Rendszerkövetelmények
Minimális rendszerkövetelmények
Rendszerkövetelmények

Windows 7 / Windows 8

Processzor

3 GHz - Intel Pentium G3220 / AMD A4-4000

Memória

2 GB RAM

Grafika

Nvidia GeForce 550 / ATI Radeon HD 5850

Tárhely

3 GB
Ajánlott rendszerkövetelmények
Rendszerkövetelmények

Windows 7 / Windows 8

Processzor

2.8 GHz - Intel Core i5-2300 / AMD A8-3850

Memória

4 GB RAM

Grafika

Nvidia GeForce 640 / ATI Radeon HD 6670

Tárhely

3 GB
Egyéb részletek