Lightning Returns: Final Fantasy XIII Steam Key GLOBAL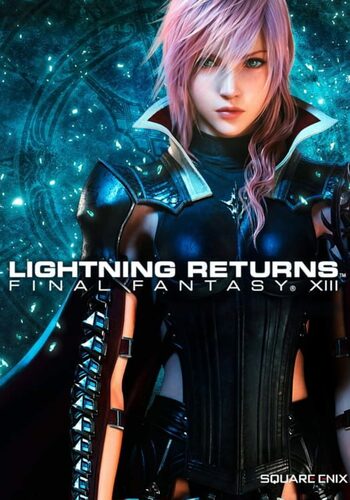 Lightning Returns: Final Fantasy XIII Steam Key GLOBAL
Share with someone who would like this!
GlobálisAktiválható itt:

Amerikai Egyesült Államok

Check

Digitális kulcs

Ez a termék a(z) (CD-KEY) fizikai kiadása

Azonnali szállítás
Vélemények: 0
Termékleírás
Lightning Returns: Final Fantasy XIII
Lightning Returns: Final Fantasy XIII is the final chapter of Square Enix's Final Fantasy XIII saga. Here you play as a legendary hero – Lightning – who is trusted with saving the world! This version of the game includes loads of DLC content.
Use your skill in combat, as well as a wide arsenal of weapons, in a last moment bid to save your home planet. Can you pull it off?
Lightning Returns: Final Fantasy XIII Key on Steam is a kind of game that absorbs you in vibrant gameplay where hours fly by without you noticing because you're having that much of a good time! 2015-12-10 marks the day of arrival of the game developed by no other than Square Enix. If you have prior experience in playing rpg games, then this knowledge will be challenged, and if you are new to the genre, then you're going to learn some nifty skills. Buy Lightning Returns: Final Fantasy XIII Steam Key, save your funds, and sign up for immersive entertainment that awaits you along with trials!
RPG genre
Lightning Returns: Final Fantasy XIII Steam Key is a story-driven RPG defined by the player's freedom to make decisions. One can respond to events in any way one can think of, and the missions are focused on a captivating narrative. While undergoing it, one must conduct various tasks and grow their character. It's an interesting game that emphasizes individual choices and desires. The player's the only one who can control the character and their success, making the experience much more personal and exciting to anyone trying it out.
Features
Lightning Returns: Final Fantasy XIII Key includes various gameplay features that make this title even more immersive! Get the game and enjoy these key elements:
• 3D graphics – The world is presented in three dimensions and can be viewed and rotated from every angle;
• Adventure – You meet and interact with colourful characters, solve various puzzles, and explore the world;
• Anime graphics – Japanese cartoon style visuals are used for the environment and character models;
• JRPG – This title focuses on hero creation, improvement, combat, and in-depth stories;
• Turn-based – Encounters and combat are restricted, and happen by players and AI taking turns;
Rendszerkövetelmények
Minimális rendszerkövetelmények
Rendszerkövetelmények

Windows XP SP2

Processzor

2GHz Dual Core CPU

Memória

1500 MB RAM

Grafika

NVIDIA Gece 8800GT / ATI Radeon HD 4770 VRAM 512MB

Tárhely

22 GB
Ajánlott rendszerkövetelmények
Rendszerkövetelmények

Windows Vista / 7 / 8

Processzor

Intel Core 2 Quad (2.66 GHz)/ AMD Phenom II X4 (2.8 GHz)

Memória

2 GB RAM

Grafika

NVIDIA Gece GTX 460 / ATI Radeon HD 5770

Tárhely

22 GB HD
Egyéb részletek
Nyelvek

Angol

Francia

Japán

Koreai

Német

Olasz

Spanyol

Traditional Chinese

Megjelenés dátuma

2015. december 10.

Kiadó

Square Enix

Fejlesztők

Square-Enix

Ezen működik