Kingdom Come: Deliverance - Royal DLC Package (DLC) Steam Key GLOBAL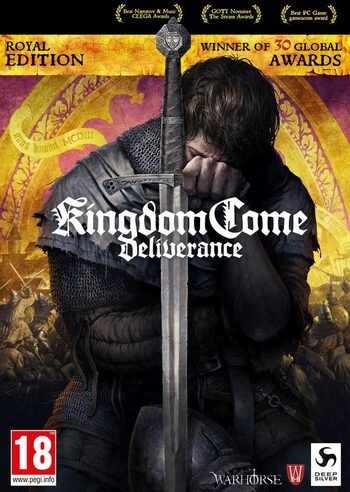 Kingdom Come: Deliverance - Royal DLC Package (DLC) Steam Key GLOBAL
Share with someone who would like this!
GlobálisAktiválható itt:

Amerikai Egyesült Államok

Check

Digitális kulcs

Ez a termék a(z) (CD-KEY) fizikai kiadása

Azonnali szállítás
Vélemények: 0
Termékleírás
Kingdom Come: Deliverance - Royal DLC Package (DLC)
Kingdom Come: Deliverance (Royal Edition) key presents the definitive version of the last year's historical RPG masterpiece! This Edition could only be compared to that of the (GOTY) class of editions. As such, it'll include every single official add-on for the game!
Kingdom Come: Deliverance (Royal Edition) key offers these DLC:
Treasures of the Past
From Ashes
The Amorous Adventures of bold Sir Hans Capon
Band of Bastards
A Woman's Lot
Buy Kingdom Come Deliverance key and you enter a story-driven open-world set in the times of the Holy Roman Empire. The game was developed by Warhorse Studios and it's a really cruel medieval piece to play through. Experience the ruthless game's role-playing nature from the very first steps that you'll take and know this; it won't be a walk in the park.
Regular Henry
Buy Kingdom Come Deliverance key and experience a thrilling story that starts in Bohemia, where your character, the son of a blacksmith named Henry, has his life shattered. A bunch of raiders, ordered by King Sigismund himself, slaughters your family and friends right in front of your eyes, and by a miracle, you manage to escape.
Choices are Yours
Now, burning with the vengeance and no options to unleash your wrath, you find yourself serving Lord Radzig Kobyla, who's organizing a rebellion. Kingdom Come Deliverance steam key unlocks a dark journey in a world corrupt and merciless. Can you find a new meaning, and rise beyond the surrounding darkness?
Thrills and Twists
Kingdom Come Deliverance key is certain to deliver a loadout of thrilling emotions, captivating gameplay and intense action all throughout. At some points you'll be plotting and partaking in verbal affairs, at others, you'll steal, kill, and frame. You'll do whatever is required to be done, as such is the way of vengeance!
Rendszerkövetelmények
Minimális rendszerkövetelmények
Rendszerkövetelmények

OS 64-bit Windows 7 or 64-bit Windows 8 (8.1) or Windows 10

Processzor

Intel CPU Core i5-2500K 3.3GHz, AMD CPU Phenom II X4 940

Memória

8 GB RAM

Grafika

Nvidia GPU GeForce GTX 660, AMD GPU Radeon HD 7870

Tárhely

40 GB
Ajánlott rendszerkövetelmények
Rendszerkövetelmények

OS 64-bit Windows 7 or 64-bit Windows 8 (8.1) or Windows 10

Processzor

Intel CPU Core i7 3770 3,4 GHz, AMD CPU AMD FX-8350 4 GHz

Memória

16 GB RAM

Grafika

Nvidia GPU GeForce GTX 1060, AMD GPU Radeon RX 580

Tárhely

40 GB
Egyéb részletek
Nyelvek

Angol

Cseh

Francia

Kínai

Lengyel

Német

Olasz

Orosz

Spanyol

Megjelenés dátuma

2019. június 11.

Kiadó

Deep Silver

Fejlesztők

Warhorse Studios

Ezen működik