HUMANKIND Digital Deluxe Edition Steam Key GLOBAL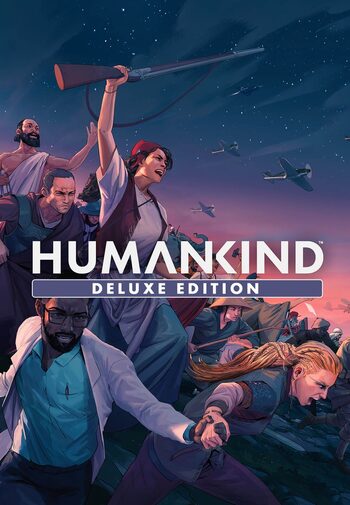 HUMANKIND Digital Deluxe Edition Steam Key GLOBAL
Share with someone who would like this!
Sajnáljuk, elfogyott :(
Szeretnéd ezt a játékot? E-mailben értesíthetünk, ha újra kapható lesz.
Értesítés
GlobálisAktiválható itt:

Amerikai Egyesült Államok

Check

Digitális kulcs

Ez a termék a(z) (CD-KEY) fizikai kiadása

Azonnali szállítás
Fontos közlemény:
Depending on code you can receive HUMANKIND Digital Deluxe Edition or HUMANKIND with Steel-book edition in your Steam account. Both edition includes the same content. The product can't be activated in China, Taiwan, Hong Kong, Japan, Democratic People's Republic of Korea, Republic of Korea.
Vélemények: 0
Termékleírás
HUMANKIND Digital Deluxe Edition Steam Key
HUMANKIND Digital Deluxe Edition includes:
• HUMANKIND base game;
• HUMANKIND digital soundtrack (.mp3);
• Unit & Tech tree poster (.pdf);
• HUMANKIND Notre-Dame pack:
• Victor Hugo avatar set;
• Notre-Dame narrative event;
• Notre-Dame wonder;
• Inspirational avatar personality.
Developers of AMPLITUDE Studios and the famous video gaming studio SEGA present one of the most innovative strategy titles - Humankind! Moreover, you can purchase the Digital Deluxe Edition for extra content and additional goodies provided by the manufacturers. Rewrite the history of mankind as we know it, create and combine new civilizations and cultures - the world is your playground. Buy Humankind Digital Deluxe Edition Steam key and begin your adventures as God - free to manipulate the powers of creation!
What are Humankind gameplay features?
Humankind is a game that offers an abundance of strategy-based gameplay features for the best experience of playing God!
• Customize your leader. Once you start the game, you choose a leader for your society that you can customize over the course of the game;
• Create civilization. You can create your civilization by mixing up any of the 60 civilizations, creating a high replayability value as each culture adds an additional layer to your gameplay and civilization;
• Each step makes history. Every decision and action you make in Humankind forge history - discover new technologies, watch ideologies rise and fall, classes clash and evolve;
• Analytical gameplay. To watch your civilization prosper, you have to utilize your analytical skills in this turn-based strategy gameplay that takes place in enormous world maps;
• Cheaper Humankind Digital Deluxe Edition price.
You are forging history!
The main objective of the game is to create a civilization which you can do by combining some of the 60 available cultures, and then make sure it grows and prospers. The turn-based tactical gameplay demands attention, patience and analytical skills since every bad decision can have detrimental consequences for your culture. Buy Humankind Digital Deluxe Edition key to forge history with every little step you make, traversing the great eras that happened between the Ancient to the Modern Age: the Neolithic tribe, the Ancient Era, the Babylonians, the Classical era Mayans, the Medieval Umayyads, and more!
Rendszerkövetelmények
Minimális rendszerkövetelmények
Rendszerkövetelmények

Windows 7, 64-bit

Processzor

Intel i5 4th generation / AMD FX-8300

Memória

8 GB RAM

Grafika

NVIDIA GTX 770 / AMD R9 290

DirectX

11

Tárhely

25 GB
Ajánlott rendszerkövetelmények
Rendszerkövetelmények

Windows 7, 64-bit

Processzor

Intel i5 6th generation / AMD Ryzen 5 1600

Memória

8 GB RAM

Grafika

NVIDIA GTX 1060 / AMD RX 5500-XT

DirectX

11

Tárhely

25 GB
Egyéb részletek
Nyelvek

Megjelenés dátuma

2021. augusztus 17.

Kiadó

SEGA

Fejlesztők

Amplitude Studios

Ezen működik