Hearts of Iron IV: No Step Back (DLC) (PC) Steam Key UNITED STATES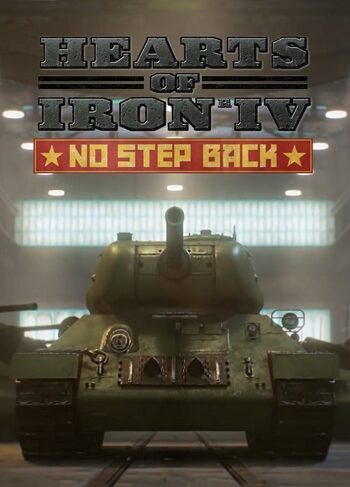 Hearts of Iron IV: No Step Back (DLC) (PC) Steam Key UNITED STATES
Share with someone who would like this!
Egyesült ÁllamokAktiválható itt:

Amerikai Egyesült Államok

Check

Digitális kulcs

Ez a termék a(z) (CD-KEY) fizikai kiadása

Azonnali szállítás
Vélemények: 0
Termékleírás
Hearts of Iron IV: No Step Back (DLC) (PC) Steam Key
No Step Back DLC includes:
• New Soviet National Focuses;
• New Polish National Focuses;
• New Baltic National Focuses;
• Army Officer Corps;
• Army Spirits;
• Supply System Updates;
• Tank Designer;
• Railway Guns.
Experience the hardest and most life-threatening battle of World War II by playing the new addition to the strategic and simulation game Hearts of Iron IV: No Step Back. Only moans, screams, and noises of war machines resonated on the eastern front of Europe. It's time for you to move on to this horrible period and fix everything the way you want. No Step Back is the latest addition to the Paradox Interactive studios' famous grand strategy military game about the 1930s global crisis and the Second World War. With this DLC, the developers have expanded the details of many of the nations in the game, added unique gaming systems that reflect Soviet politics, and many different improvements to the military aspects of the game.
Hearts of Iron IV: No Step Back features
The DLC pays close attention to the elements of various nations, expands the mechanics of the military, supply, army corps. Players who miss war on their computer screens can expect the following:
• Bigger focus on various nations. In addition to the expanded history of the Soviet and Polish nations, the game will also focus more on the Baltic countries. Alternative variations of history for Estonia, Latvia, and Lithuania, as well as unique paths for each;
• Army corps. Create a platoon of generals who stand out for their talent and experience. Take advantage of changes in technology and tactics;
• The spirit of war. Pay attention to certain officer specifics, add substantial improvements to certain types of units. Also, improve the division design;
• Supply system improvements. Scorched Earth tactics, floating ports, and special supply units added to the logistics system;
• Tank designer. Build your armored beast using modules for higher speed, weapon power, armor, or even production costs;
• Railway weapons. Command the largest and most impressive artillery weapons, uniquely designed to smoke out enemies hiding in trenches or their fortification positions;
• Cheap Hearts of Iron IV: No Step Back (PC) price.
Even more of the Second World War
Hearts of Iron IV: No Step Back DLC (PC) key game is played from the top-down perspective, so you will watch the whole war from above by playing it. You can expect an extremely rich and sophisticated skill tree, you will spend many hours combining a variety of strategies and experiencing dramatic storytelling. It seems that World War II is still unabated by computer game developers. You'll definitely enjoy this historic game if you're interested in World War II history, weapons, battles, and dates. You will like it even if you're not interested in it but like to spend long evenings in tactical strategies. The hour has finally dawned on you to dictate the conditions of war!
Rendszerkövetelmények
Minimális rendszerkövetelmények
64 bites támogatás

Igen

Rendszerkövetelmények

Windows 7

Processzor

Intel Core 2 Quad Q9400 @ 2.66 GHz / AMD Athlon II X4 650 @ 3.20 GHz

Memória

4 GB RAM

Grafika

ATI Radeon HD 5850 / NVIDIA GeForce GTX470 (1GB VRAM)

DirectX

9.0

Tárhely

2 GB
Egyéb részletek