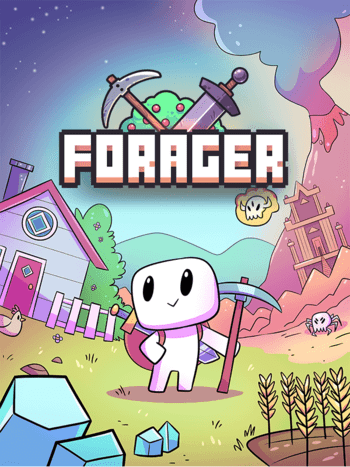 Share with someone who would like this!
Cheapest offer
Available at checkout:
GlobálisAktiválható itt:

Amerikai Egyesült Államok

Digitális kulcs

Ez a termék a(z) (CD-KEY) fizikai kiadása

Azonnali szállítás
Vélemények: 0
Termékleírás
Forager key
Buy Forager key and unlock a truly magnificent pixelated survival-adventure game developed by HopFrog! The game surprises with a variety of actions, activities, and options. Throughout its 15+ hours of gameplay, you'll be captivated in front of your screen! Prepare to visit an array of unseen lands, fight numerous monsters and bosses, also, craft, build, scavenge, and explore.
The World of Opportunity
With Forager key, you'll enter an open world full of wonder and challenge. Meet numerous NPCs, tame animals, farmlands, explore caves and dungeons and traverse through deserts, graveyards, snowy mountains, volcanoes and tons of other creative biomes. This captivating world contains numerous secrets and mysteries, and it's up to you to discover and learn them.
The Style of Life
Buy Forager key and play the game entirely your way. You can become a successful archaeologist and discoverer, an unprecedented gatherer, a self-established farmer, a cunning capitalistic merchant, an endearing adventurer, or a skilful builder! Ready to take up on everything that the title can offer? Forager game is as personal as you make it be, but it's up to you to make it!
Character Progression
Forager key unlocks an adventure of a lifetime. Dive into the gameplay and start your progression. The game offers a total of 64 unique skills to learn, numerous weapons to wield, and tons of items to equip. Become the hero of the land, reach max level, learn all the intricate blueprints, and enjoy the rewarding journey all throughout. If you're a fan of Stardew Valley, Terraria, & Zelda games – Forager is next on the list!
Rendszerkövetelmények
Minimális rendszerkövetelmények
Rendszerkövetelmények

Windows XP

Processzor

1.2Ghz

Memória

1 GB RAM

Grafika

512 MB

Tárhely

200 MB
Egyéb részletek
Nyelvek

Angol

Francia

Német

Portugese-Brasil

Spanyol

Megjelenés dátuma

2019. április 18.

Kiadó

Humble Bundle

Fejlesztők

HopFrog

Ezen működik