Europa Universalis IV - Third Rome (DLC) Steam Key GLOBAL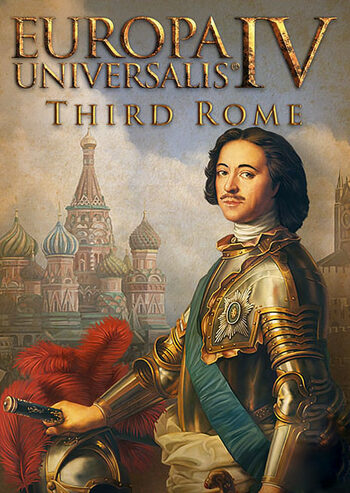 Europa Universalis IV - Third Rome (DLC) Steam Key GLOBAL
Share with someone who would like this!
Cheapest offer
Looking for good deals?
Get them delivered to your inbox
Available at checkout:
GlobálisAktiválható itt:

Amerikai Egyesült Államok

Digitális kulcs

Ez a termék a(z) (CD-KEY) fizikai kiadása

Azonnali szállítás
Vélemények: 0
Termékleírás
Europa Universalis IV - Third Rome (DLC) Steam Key
Europa Universalis IV: Third Rome Steam Key is the expansion to a strategy simulator game Europa Universalis IV developed by Paradox Development. Enjoy another rich addition to the popular strategy game franchise that secures its popularity across the globe. If you are a fan of the indomitable Russian empire that expanded greatly over the centuries, then buy Europa Universalis IV - Third Rome Steam key and you can gain control over Russia! Extend its cultural and physical borders, conquer and do not let political intrigues end your reign – instead, use them to your advantage and fool those who wish you ill, as befits a true strategist!
Build your version of Russian Empire
Enter the land of fierce winters, there the spirits of the old still seem to haunt the woods and brave Slavic warriors spill blood recklessly for their land. Europa Universalis IV - Third Rome Steam key invites players to step into the Northern lands and seize control over Orthodox Metropolitans. Being an addition to one of the most prominent Europa Universalis games, the DLC provides an opportunity to aim for the best – throne of a Tsar! Turn piety into political force, climb the ladder of ranks in the Russian hierarchy, conquer, expand the borders, control the greatest units of military and warriors with Europa Universalis IV - Third Rome game key!
Third Rome gameplay features
The gameplay of Europa Universalis IV's Third Rome revolves around The Russian Region (starting with year 1444), Russian Colonisation and Orthodox Religion. The three of these aspects of Russia are to be dealt with, taken advantage of and utilized to the maximum for you to become the Tsar! The DLC extension adds not only content but also additional gameplay features to enrich the overall Europa Universalis 4 experience!
• Metropolitans. Ordain the prominent Metropolitans' provinces to add to the authority of the Orthodox church, without revealing your ulterior motives until your goal is achieved and the reign is secured;
• Tsardoms and Realms. Enjoy new ranks of Russian government along with additional abilities and bonuses, so they can rule realms instead of just provinces;
• Streltsy. Command the greatest unit of Russian soldiers to secure the rule and safety of your empire;
• Iconography. Use the commission of icons to appeal to the Orthodox church and gain political power even faster;
• Cheaper Europa Universalis IV - Third Rome Steam Key price.
Rendszerkövetelmények
Minimális rendszerkövetelmények
Rendszerkövetelmények

Windows 7/Windows 8

Processzor

Intel® Pentium® IV 2.4 GHz eller AMD 3500+

Memória

2 GB

Grafika

NVIDIA® GeForce 8800 or ATI Radeon® X1900, 512mb required

Tárhely

2 GB
Ajánlott rendszerkövetelmények
Rendszerkövetelmények

/Windows 7/Windows 8

Processzor

Intel® Pentium® IV 2.4 GHz or AMD 3500+

Memória

2 GB

Grafika

NVIDIA® GeForce 8800 or ATI Radeon® X1900, 1024mb

Tárhely

2 GB
Egyéb részletek
Nyelvek

Megjelenés dátuma

2017. június 14.

Kiadó

Paradox Interactive

Fejlesztők

Paradox Development

Ezen működik