Europa Universalis IV - Mare Nostrum (DLC) Steam Key GLOBAL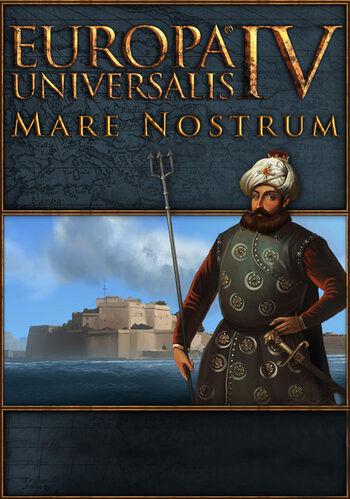 Europa Universalis IV - Mare Nostrum (DLC) Steam Key GLOBAL
Share with someone who would like this!
GlobálisAktiválható itt:

Amerikai Egyesült Államok

Check

Digitális kulcs

Ez a termék a(z) (CD-KEY) fizikai kiadása

Azonnali szállítás
Vélemények: 0
Termékleírás
Europa Universalis IV - Mare Nostrum Steam key
Europa Universalis IV: Mare Nostrum is the fifth expansion to a strategy simulator game Europa Universalis IV developed by Paradox Development. Enjoy another rich addition to the popular strategy game franchise that secures its popularity across the globe year after year. The epicentre of this DLC is the naval warfare and control of trade systems in the early modern world. Buy Europa Universalis IV: Mare Nostrum Steam (CD) key and enjoy the 8th additional installment of the Europa Universalis 4 game!
Conquer the seas!
Now that most lands are discovered and the map of the world is changing drastically, the sea serves as one of the main trade areas, which means that if you dominate the seas, you control the trade system! To control the trade is to control the world, technically speaking, so do everything in your power to achieve that. Buy Europa Universalis IV: Mare Nostrum Steam key to experience warfare across the seas where you must face foes from rival European countries and grim pirates. Patrol, command, scheme and strategize as the world is rapidly being shared by the dominant countries across the globe, and chase lavish resources and wealthy discoveries in heat!
Mare Nostrum gameplay features
As each Europa Universalis DLC installment, Mare Nostrum offers additional content and gameplay features, adding value to the replayability of the game. Wage naval war, gather as many soldiers as you can, raise your fleets and ravage the trade routes! Enjoy one of the best DLC to Europa Universalis games and experience the enthralling gameplay that requires wit, skill and knowledge.
• New naval missions. A new diplomatic feature has been added called Map Sharing that enables you to ask other nations for their map if yours seem not to suffice;
• Beware of the pirates. You are dealing with sea trade routes, so be sure that you will meet some fierce pirates ready to raid your fleets and coastlines for gold and sailors;
• Trade Leagues. Trade League may recruit minor nations for common defense as well as riches;
• Condottieri. Nations can rent their armies – while their soldiers fight and die for another country, these nations earn money and wealth for their sacrifice;
• Cheaper Europa Universalis IV: Mare Nostrum price.
Rendszerkövetelmények
Minimális rendszerkövetelmények
Rendszerkövetelmények

Windows Vista/ 7 / 8

Processzor

Intel Pentium IV 2.4 GHZ

Memória

2 GB RAM

Grafika

NVIDIA GeForce 8800 or ATI Radeon X1900

Tárhely

2 GB
Ajánlott rendszerkövetelmények
Rendszerkövetelmények

Vista/Windows 7/Windows 8

Processzor

Intel® Pentium® IV 2.4 GHz or AMD 3500+

Memória

2 GB

Grafika

NVIDIA® GeForce 8800 or ATI Radeon® X1900, 1024mb

Tárhely

2 GB
Egyéb részletek
Nyelvek

Megjelenés dátuma

2016. április 5.

Kiadó

Paradox Interactive

Fejlesztők

Paradox Development

Ezen működik