Euro Truck Simulator 2 Complete Edition Steam Key GLOBAL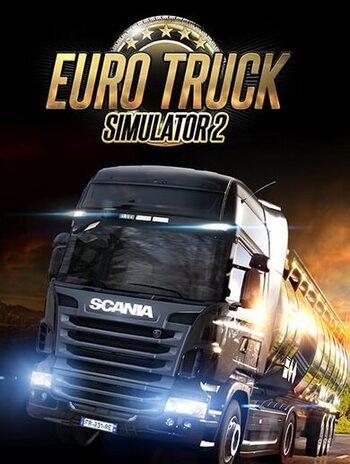 Euro Truck Simulator 2 Complete Edition Steam Key GLOBAL
2 ember nézi ezt a terméket
Share with someone who would like this!
GlobálisAktiválható itt:

Amerikai Egyesült Államok

Digitális kulcs

Ez a termék a(z) (CD-KEY) fizikai kiadása

Azonnali szállítás
Vélemények: 0
Termékleírás
Euro Truck Simulator 2 Complete Edition Key
Euro Truck Simulator 2 Complete Edition includes:

ACCESSORIES
-Cabin Accessories
-Michelin Fan Pack
-Windows Flags
CARGO PACK
-Heavy Cargo Pack
-High Power Cargo Pack
-Schwarzmüller Trailer Pack
EXTENSIONS
-Going East!
-Scandinavia
-Vive la France !
PAINT JOBS
-Christmas Paint Jobs Pack
-Fantasy Paint Jobs Pack
-Flip Paint Designs
-Force of Nature Paint Jobs Pack
-French Paint Jobs Pack
-Halloween Paint Jobs Pack
-Ice Cold Paint Jobs Pack
-Metallic Paint Jobs Pack
-Pirate Paint Jobs Pack
-Prehistoric Paint Jobs Pack
-Valentine's Paint Jobs Pack
-Viking Legends
TUNING
-Mighty Griffin Tuning Pack
-Wheel Tuning Pack
The second game in the Euro Truck Simulator series, Euro Truck Simulator 2 GOTY Steam key lets you really feel what it's like being a long-distance truck driver. In this relaxing game you get to choose your truck, pick up your cargo and deliver it to the required destiny point somewhere either in Europe or the USA. The journey is long and the roads stretch into the horizon but SCS Software made sure that the experience of reaching your destination is nothing less than enchanting.
A personal business model
Want more vehicles or drivers to make the delivery easier? Once you get some experience in the game by travelling around the continent a couple of times, your business might begin growing exponentially, so stay focused and keep aiming for more! Make your efforts consistent throughout the game and you will be able to create your own firm, hire other drivers, buy garages, new trucks and much more. Slowly but surely, here you can grow your own empire.
A community-based experience
With the Euro Truck Simulator 2 GOTY Steam key, besides the solo experience you also get to join the World of Trucks online community, where the most dedicated drivers share their experiences worldwide. Due to the game's massive popularity, there are many travellers itching to share their journeys. Strolling along the lonely road is relaxing and awesome, but having someone to share your experiences with, makes the whole journey that much better!
A digital road-trip
At the end of the day, Euro Truck Simulator 2 GOTY key offers everything you love about road travelling and more. The scenery you traverse is recreated to the most scrupulous detail. The cities, towns, and villages are worth every minute, and the vast environments that will lead you through hours upon hours of gameplay are simply breathtaking.
Includes:
• Euro Truck Simulator 2
• Euro Truck Simulator 2: Going East
• Euro Truck Simulator 2: Force of Nature Paint Jobs Pack
• Euro Truck Simulator 2: Ice Cold Paint Jobs Pack
• Euro Truck Simulator 2: Halloween Paint Jobs Pack
• Euro Truck Simulator
• Scania Truck Driving Simulator
• Trucks & Trailers
• Bus Driver
Rendszerkövetelmények
Minimális rendszerkövetelmények
Rendszerkövetelmények

Windows XP

Processzor

Dual core CPU 2.4 GHz

Memória

2 GB RAM

Grafika

GeForce 7600 GT-class

Tárhely

3 GB
Egyéb részletek
Nyelvek

Angol

Bolgár

Cseh

Dán

Finn

Francia

Görög

Holland

Japán

Koreai

Kínai

Lengyel

Magyar

Norvég

Német

Olasz

Orosz

Portuguese - Brazil

Portugál

Román

Spanyol

Svéd

Török

Megjelenés dátuma

2017. szeptember 19.

Kiadó

SCS Software

Fejlesztők

SCS Software

Ezen működik