EARTH DEFENSE FORCE 4.1 The Shadow of New Despair Steam Key GLOBAL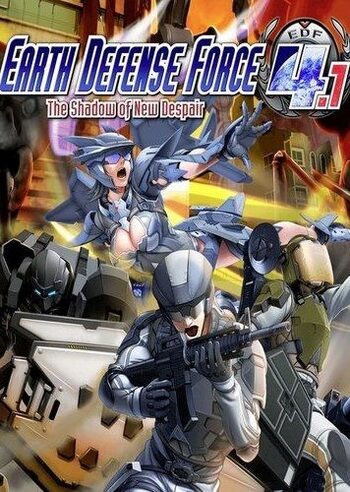 EARTH DEFENSE FORCE 4.1 The Shadow of New Despair Steam Key GLOBAL
Share with someone who would like this!
GlobálisAktiválható itt:

Amerikai Egyesült Államok

Digitális kulcs

Ez a termék a(z) (CD-KEY) fizikai kiadása

Azonnali szállítás
9.83

Kiváló értékelés

(30k+ sales in the last 6 months)
Vélemények: 0
Termékleírás
EARTH DEFENSE FORCE 4.1 The Shadow of New Despair Key
Become Earth's last hope in this remastered version of Earth Defense Force 2025, developed by Sandlot and published by D3 Publisher. Earth Defense Force 4.1 The Shadow of New Despair Steam key includes:
• The original Earth Defense Force 2025 game;
• An expansion that includes a total of 8 weapon packs, 3 map packs, and a total of 45 additional missions.
The year is 2025. 8 years ago humanity had been fighting swarms of Ravagers, giant insect-like aliens, that tried taking over the world. Lulled into a false sense of safety, people continued with their lives. But they came back. Now, Earth's only hope is the EDF, a group of the world's greatest soldiers and scientists. Buy Earth Defense Force 4.1 The Shadow of New Despair key and become a powerful EDF soldier - it's time to exterminate some pesky bugs!
A world on the brink of destruction
Earth's military forces once fought the Ravagers in 2017. These creatures aren't just your ordinary alien insects - they range from robots and gigantic, 36-meter tall lizards to enormous spiders and giant wasps. Although man has managed to take down their mothership once, it was only just the first wave. Now, the EDF has developed over 500 different weapons and equipment to battle these invaders. Play as:
• Rangers - become the master expert of long-range guns.
• Wing Divers - rain down death from above.
• Fencers - slash and blast your way through hordes.
• Air Raiders - control the tide of the battle.
Gameplay features:
• 4 distinct classes with different strengths;
• Online Co-op mode;
• Over 80 missions;
• Around 800 weapons;
• Huge variety of enemies;
• Destructible environments with no penalty for collateral damage;
• Cheap Earth Defense Force 4.1 The Shadow of New Despair price.
Rendszerkövetelmények
Minimális rendszerkövetelmények
Rendszerkövetelmények

Windows 7 64bit, Windows 8.1 64bit Windows 10 64bit

Processzor

3 GHz 2 Core

Memória

4 GB RAM

Grafika

AMD Radeon HD 7870 / NVIDIA GeForce GTX 660 (2GB Model)

DirectX

11

Hálózat

Broadband Internet connection

Tárhely

8 GB

További megjegyzések

XInput Controller
Ajánlott rendszerkövetelmények
Rendszerkövetelmények

Windows 7 64bit, Windows 8.1 64bit Windows 10 64bit

Processzor

3.2GHz 4Core

Memória

8 GB RAM

Grafika

AMD Radeon HD 7970 / NVIDIA GeForce GTX 760 (3GB Model)

DirectX

11

Hálózat

Broadband Internet connection

Tárhely

8 GB

További megjegyzések

XInput Controller
Egyéb részletek
Nyelvek

Megjelenés dátuma

2016. július 19.

Kiadó

D3 PUBLISHER

Fejlesztők

SANDLOT

Ezen működik