Bright Memory: Infinite Steam Key GLOBAL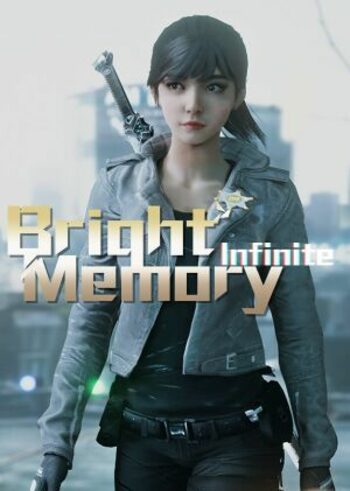 Bright Memory: Infinite Steam Key GLOBAL
Sajnáljuk, elfogyott :(
Szeretnéd ezt a játékot? E-mailben értesíthetünk, ha újra kapható lesz.
Értesítés
GlobálisAktiválható itt:

Amerikai Egyesült Államok

Digitális kulcs

Ez a termék a(z) (CD-KEY) fizikai kiadása

Azonnali szállítás
Vélemények: 0
Termékleírás
Bright Memory: Infinite (PC) Steam Key
Bright Memory: Infinite Steam Key is a first-person shooter developed by one-person Chinese company "FYQD Personal Studio". Developed as a leisure hobby, the game, formerly known as Bright Memory: Episode 1, found its way into Steam Early Access in 2019 and was later released to mobile platforms and the Xbox Series X/S. Since then, the game has been redesigned, improved, and expanded in terms of both gameplay and story, and now its full name is Bright Memory: Infinite.
Get ready for a tense fight
Bright Memory: The infinite Steam Key is a first-person shooter with close combat elements. Players control the character Sheila, who not only uses weapons and a sword, but also has special abilities, including psychokinesis and bursts of energy. The game draws a lot of inspiration from the famous series Devil May Cry, as while playing it you can also perform various combinations of actions in battles, and you will be rewarded with ratings for a stylish game. The better you fight, the more experience points you gain, for which you can improve Shelia's qualities, including stopping time. You will also discover puzzles in certain areas of the game.
Fight on flying lands
The protagonist of Bright Memory: Infinite game, Shelia works for the Research Organization, which tasked the character with preventing the military SAI organization from discovering ancient power that could raise the dead. The game takes place in the Land of Sky area, which is above the Arctic. Travel around the surface of flying lands that belong to ancient beings.
Bright Memory: Infinite Features:
• Quick fights. Use weapons, sword, and super powers in battles;
• Futuristic world. The action of the game takes place in 2036;
• Flying lands. The unusual world of the game will not let you get bored;
• Cheap Bright Memory: Infinite price.
Rendszerkövetelmények
Minimális rendszerkövetelmények
64 bites támogatás

Igen

Rendszerkövetelmények

Windows 7

Processzor

INTEL E3-1230v2 / AMD FX-8350

Memória

4 GB RAM

Grafika

720P+60FPS Nvidia GTX 950 / 1080+60FPS:Nvidia RTX 1060

DirectX

11

Tárhely

20 GB
Ajánlott rendszerkövetelmények
64 bites támogatás

Igen

Rendszerkövetelmények

Windows 10

Processzor

INTEL i7-4790K / AMD FX-9590

Memória

8 GB RAM

Grafika

1440p+60FPS Nvidia GTX 1070 / 4K+60FPS:Nvidia RTX 2070

DirectX

12

Tárhely

20 GB
Egyéb részletek
Nyelvek

Angol

Japán

Simplified Chinese

Megjelenés dátuma

2021. november 12.

Kiadó

PLAYISM

Fejlesztők

FYQD-Studio

Ezen működik