Black Skylands Steam Key GLOBAL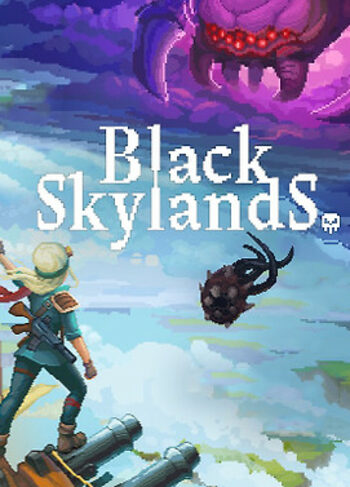 Black Skylands Steam Key GLOBAL
GlobálisAktiválható itt:

Amerikai Egyesült Államok

Digitális kulcs

Ez a termék a(z) (CD-KEY) fizikai kiadása

Azonnali szállítás
Vélemények: 0
Termékleírás
Black Skylands Steam Key
Dive into an open-world action adventure where the only limit is the sky itself! Hungry Couch Games and tinyBuild proudly present their newest project - an atmospheric sandbox game with a huge emphasis on exploration, both land and sky combat, customization, and the expansion of your base. Black Skylands makes its debut in the skypunk genre and it offers an opportunity to soar through the skies of Aspya, the planet of a thousand floating islands. Here, peace is but a long forgotten memory as vicious raiders attack the peaceful inhabitants - your journey starts when these cold-blooded bandits kill your father. Buy Black Skylands Steam key, rebuild your home, and seek out the ones that destroyed your home!
Black Skylands gameplay elements
This charming top-down pixel game is made that much better thanks to the various features included in the Black Skylands key. Here's what you can expect:
• Dynamic combat. Bandits are crawling everywhere, from the highest layers of the atmosphere to lonesome islands in the sky - destroy their ships via aerial attacks or gun down the grunts yourself on land;
• Customization options. From lightweight speedy vessels to heavily-armored skyships, from pistols to machine guns - everything here can be customized;
• Build, expand, protect. Gathering resources allows you to upgrade the Fathership, your flying fortress, and expand your capabilities - build workshops, factories, laboratories, gardens, and ranches, and ensure the safety of your people;
• Explore Aspya. The skies are full of secrets and loot - venture into various environments and biomes in search of ancient artefacts;
• Cheap Black Skylands price.
Revenge at all costs
With the Black Skylands key, players embody Eva, a proud member of the Earners faction. Your people's peaceful existence comes to a halt as the Kain's Falcons, vicious bandits that hail from the Desert Lands, invade your flying fortress, destroy it, and kill some people in the process, including your father. Instead of falling to despair, Eva lets her thirst for revenge drive her to rebuild, expand, and hunt down these Falcons. However, bandits aren't the only things lurking in the skies - buy Black Skylands Steam key and face ancient threats!
Rendszerkövetelmények
Minimális rendszerkövetelmények
Rendszerkövetelmények

Windows 7

Processzor

Intel i3 2125 3.30 GHz

Memória

4 GB RAM

Grafika

GT 750M

DirectX

11

Tárhely

2 GB
Egyéb részletek
Nyelvek

Angol

Francia

Német

Orosz

Portuguese-Brazil

Simplified Chinese

Spanyol

Megjelenés dátuma

2021. július 9.

Kiadó

tinyBuild

Fejlesztők

Hungry Couch Games

Ezen működik