Arkham Horror: Mother's Embrace (PC) Steam Key GLOBAL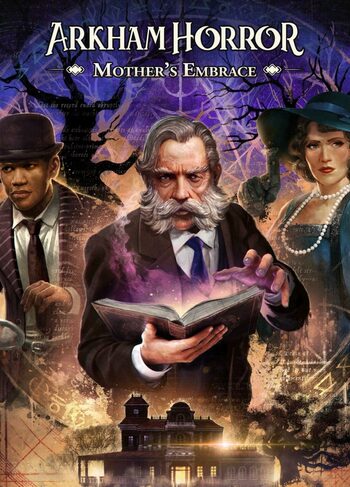 Arkham Horror: Mother's Embrace (PC) Steam Key GLOBAL
Share with someone who would like this!
GlobálisAktiválható itt:

Amerikai Egyesült Államok

Check

Digitális kulcs

Ez a termék a(z) (CD-KEY) fizikai kiadása

Azonnali szállítás
Vélemények: 0
Termékleírás
Arkham Horror: Mother's Embrace
Asmodee Digital presents a thrilling investigative adventure wrapped in the haunting mythos of H.P. Lovecraft's most horrific creation - Cthulhu! Inspired by the well-loved award-winning board games, Arkham Horror: Mother's Embrace takes place in the American Roaring Twenties, a time of lavish parties, luxurious fashion and murder mysteries. Here, players engage in the exploration of a heinous crime committed against the professor of astronomy. From the position of the body to the crime scene itself and the surrounding clues, everything points to foul play, and your mission is to catch the culprit. Buy Arkham Horror: Mother's Embrace Steam key and unravel this gruesome mystery, even if it costs you your life!
Arkham Horror: Mother's Embrace gameplay features
There's no doubt about it - a cult is responsible for the murder. But this abhorrent crime is only a small piece of a bigger puzzle that may bring out the end of the world. Discover the cult's true plan and stop them before it's too late!
• An original mystery. Dive into a story written by Fantasy Flight Games' official writers responsible for the board games;
• 12 playable investigators. The game features 12 investigators from the Arkham Horror games, each with distinct skills and specialities;
• Cosmic horror. This murder is a gateway to a world filled with dubious scientific experiments, nightmares come to life, and a cult that will do anything to bring their worshipped eldritch horrors into the world;
• Let madness reign. The investigation and encounters with otherworldly amalgamations affect your sanity for better or for worse - this has a profound effect on the outcome of the story;
• Turn-based combat. The cult won't go down so easily - not only will you gather clues and talk to witnesses, but fight with the cultists and their scientific experiments with melee, ranged weapons and magic as well;
• Cheap Arkham Horror: Mother's Embrace price.
A Lovecraftian adventure like no other
Step into the year 1926, a time of extravagance and great interest in everything that is occult. The body of an astronomy professor has been found in her mansion - all signs point to premeditated murder. As investigators, players are tasked with assembling a team and uncovering the true culprit of this crime. But as you travel from Arkham Asylum to Miskatonic University, the bayous of Louisiana and other mysterious locales searching for clues and interrogating persons of interest, you soon discover that this murder is connected to a cult. And they will do anything to stop you from uncovering more of their secrets! You'll have to face cult members, nightmares personified and ancient horrors of various kinds, all the while juggling the increasingly complex investigation, depleting sanity and accumulating traumas. Buy Arkham Horror: Mother's Embrace Steam key, face the cosmic horror and decide your own fate!
Rendszerkövetelmények
Minimális rendszerkövetelmények
64 bites támogatás

Igen

Rendszerkövetelmények

Windows 7

Processzor

Intel Core 2 Duo E4700 2.6 GHz / AMD Phenom 9950 Quad Core 2.6 GHz

Memória

4 GB RAM

Grafika

1GB ATI Radeon HD 5770, 1GB NVIDIA GeForce GTX 460

DirectX

10

Tárhely

5 GB
Egyéb részletek
Nyelvek

Megjelenés dátuma

2021. március 23.

Kiadó

Asmodee Digital

Fejlesztők

Asmodee Digital

Ezen működik