Fortnite: Neo Versa Bundle + 500 V-Bucks (PS4) PSN Key UNITED STATES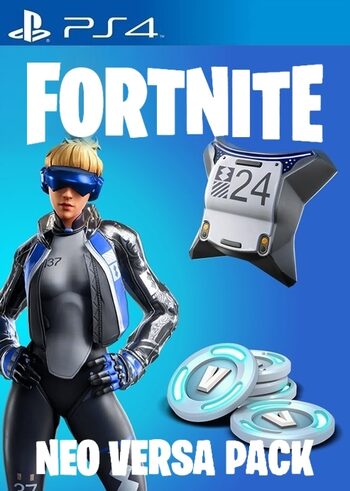 Fortnite: Neo Versa Bundle + 500 V-Bucks (PS4) PSN Key UNITED STATES
Share with someone who would like this!
Sajnáljuk, elfogyott :(
Szeretnéd ezt a játékot? E-mailben értesíthetünk, ha újra kapható lesz.
Értesítés
Egyesült ÁllamokAktiválható itt:

Amerikai Egyesült Államok

Check

Digitális kulcs

Ez a termék a(z) (CD-KEY) fizikai kiadása

Azonnali szállítás
Ezen működik:
PlayStation 4
PlayStation 5
Fontos közlemény:
Works only for PS4 UNITED STATES accounts. Make sure your account is registered to US before buying this code!
Vélemények: 0
Fortnite: Neo Versa Bundle + 500 V-Bucks PS4
Fortnite Neo Versa Bundle + 500 V-Bucks and receive the following content:
• Fortnite Neo Versa skin;
• Epic Neo Phrenzy Back Bling;
• 500 V-Bucks.
The Neo Versa is Fortnite cosmetic item analogous to the Fortnite Royale Bomber skin DLC. Both are Fortnite accessories of Epic rarity, exclusive to the PlayStation 4 platform. Usually, these skins are received through purchasing either the PlayStation 4 headset or controller but by shopping here at the Eneba game store, you have a unique opportunity to buy the Neo Versa outfit itself, included in a bundle that comes along with additional items. Buy Fortnite Neo Versa Bundle – 500 V-Bucks will increase your in-game account and in addition, you'll also be able to equip yourself with the Epic Neo Phrenzy Back Bling!
Gear up for the battles ahead!
Purchase the bundle and lose yourself in the cross-platform free-to-play battle royale from Epic Games which also comes with additional modes like the Creative and Save the World. Since its launch in 2017, Fortnite climbed to the heights of popularity, becoming a widely recognized cultural phenomenon! The title features addictive gameplay, a rewarding progression system, an engaging learning curve, and a staggering variety of content! What differentiates Fortnite from other battle royale games like PUBG or Apex Legends is the material gathering system together with unique building mechanics reminiscent of those present in Minecraft. Buy Fortnite Neo Versa Bundle + 500 V-Bucks, put the Epic Neo Phrenzy Back Bling on your shoulders and join the fun!
Half-way to the Battle Pass!
That's right! This bundle includes 500 V-Bucks and since the Fortnite battle pass currently costs 950 V-Bucks, once you buy this pack, you're basically half-way to unlocking a plethora of other great content available during the present season! As you know, V-bucks are a Fortnite in-game currency used to buy cosmetic items featured on the Item Shop together with Battle Passes and Battle Bundles. V-Bucks can be received either through buying them with real money or slowly unlocking their limited amounts through the in-game progression system. Why not buy the Fortnite Neo Versa Bundle? 500 V-Bucks, Epic Neo Phrenzy Back Bling, and the Neo Versa skin are all yours – it's that simple!
How do I redeem a Fortnite code on PS4?
• On the PS Dashboard select the PlayStation Store option;
• Scroll down below and click the Redeem Codes button;
• Enter the purchased key code;
• Press Continue to go to the next page;
• Click Confirm to finish the redemption process;
• Items should now appear in your Fortnite Locker!
Lastly, always remember you can come back at any time and find more awesome Fortnite content on our Fortnite skins collection!
Egyéb részletek
Nyelvek

Megjelenés dátuma

2019. július 8.

Kiadó

Epic Games

Fejlesztők

Epic Games