Crash Bandicoot 4: It's About Time (PS4) PSN Key EUROPE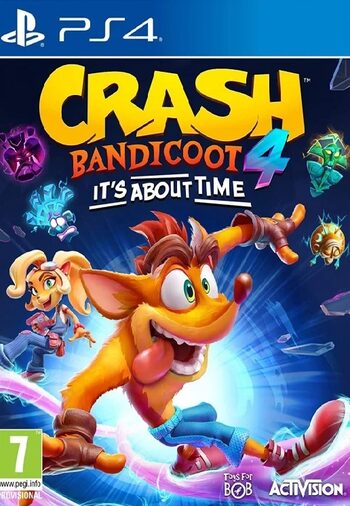 Crash Bandicoot 4: It's About Time (PS4) PSN Key EUROPE
Share with someone who would like this!
Sajnáljuk, elfogyott :(
Szeretnéd ezt a játékot? E-mailben értesíthetünk, ha újra kapható lesz.
Értesítés
EurópaNem aktiválható itt:

Amerikai Egyesült Államok

Digitális kulcs

Ez a termék a(z) (CD-KEY) fizikai kiadása

Azonnali szállítás
Ezen működik:
PlayStation 4
PlayStation 5
Vélemények: 0
Termékleírás
Crash Bandicoot 4: It's About Time
Toys for Bob and Activision deliver a game that defines crazy! Crash Bandicoot 4: It's About Time is a fast-paced, action-packed platformer featuring Crash, of the most prominent characters in the gaming world! Join Crash on his sister Coco against the old nemesis - the notorious Doctor Neo Cortex who is up to some mastermind scheme again! Buy Crash Bandicoot 4: It's About Time Key and experience an adrenaline course through your veins as you rush through the obstacles and find yourself tangled in the craziest tasks!
The greatest Crash Bandicoot game!
Crash Bandicoot 4 key is the biggest game in the series - the massive levels and densely packed activities take you into the fast-paced world of Bandicoot the moment you start the game! Although limited, you can explore the open areas of the in-game world since not all levels are linear. Crash: Bandicoot 4: It's About Time key provides you with an opportunity to assume the role of five different playable characters and tackle the multiple levels, each of which is filled with enemies, crates, Wumpa fruit and hazards. Your ultimate goal? To put an end to Neo Cortex's evil plans before he even has the chance to execute them!
What happens in Crash Bandicoot 4?
Uka Uka attempted to liberate himself, Doctor Neo Cortex, and Doctor Nefarious Tropy from their prison in the past, and in doing so, accidentally unleashed a shockwave of energy that ripped open a hole in the fabric of space and time! Neo Cortex, of course, immediately realized he can use the opportunity to enhance the chaos to meet his own vicious needs. You must find the Quantum Masks - the relics that possess enough power to put things back in order before great calamity happened! Buy Crash Bandicoot 4: It's About Time key and partake in an adventure of a lifetime!
Major gameplay features
Crash Bandicoot 4: It's About Time key is the most massive release in the series of Crash Bandicoot's adventures but that's not all - the title also delivers the most innovative gameplay features that loyal fans of the series can enjoy to their heart's content!
• Limited open-world. During some levels you are able to stray from your route and explore the world of the fourth installment in the series, and enjoy the colourful environment bursting with life;
• An abundance of activity. There is no time to rest in this game - a variety of obstacles and enemies you must deal with demand great effort and determination to overcome;
• Five playable characters. You can choose from five playable characters. The main story levels focus on players controlling Crash and Coco, while in the alternative timeline you can play as Doctor Neo Cortex, Dingodile, and Tawna;
• Engaging story. A story involving the disturbance of time and space as we know it follows the events of the previous games, but if you are new to the game - you are bound to enjoy the title all the same;
• Cheaper Crash Bandicoot 4: It's About Time price.
Egyéb részletek
Nyelvek

Angol

Francia

Portugál

Spanyol

Megjelenés dátuma

2020. október 1.

Kiadó

Activision

Fejlesztők

Toys for Bob