Fortnite - Trespasser Elite Skin (DLC) (PC) Epic Games Key GLOBAL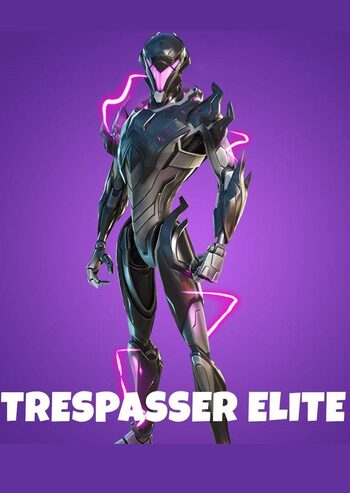 Fortnite - Trespasser Elite Skin (DLC) (PC) Epic Games Key GLOBAL
Többjátékos

Co-op

Külső nézetes
Sajnáljuk, elfogyott :(
Szeretnéd ezt a játékot? E-mailben értesíthetünk, ha újra kapható lesz.
Értesítés
GlobálisAktiválható itt:

Amerikai Egyesült Államok

Digitális kulcs

Ez a termék a(z) (CD-KEY) fizikai kiadása

Azonnali szállítás
Vélemények: 0
Fortnite - Trespasser Elite Skin (DLC) (PC) Epic Games Key
The Fortnite - Trespasser Elite Skin DLC Includes:
• The Trespasser Elite Skin
Lift your Fortnite gaming experience to new heights with the addition of the Trespasser Elite skin. Visit the Eneba store today to get your hands on the Trespasser Elite Skin DLC at a great price. Fill the shoes of one of the most popular NPCs that are found in the field whenever you start a new game of battle royale. Add an extra touch to the game you love and join as the coolest version of the Trespasser, bar none!
Join the non-stop action
Once you have your hands on the bundle, join the action in probably the most popular free-to-play battle royale game ever. Fortnite, the game by Epic Games that took over the world, also features Creative and Save the World game modes that will keep you busy when you feel like a break from battle royale is due.
A game unlike any other
Sure, battle royale games are a dime a dozen nowadays but none come close to the unique combination of crazy action, unique building mechanics, endless content, and a great rewards system that keeps you coming back for more. There's no surprise that the game gathers gamers with incredibly different preferences, as Fortnite includes so many details from various genres. Adding the Trespasser Elite Skin is just one way to make the game even better. Redeem the DLC and stand out of the pack in one of the most popular games of the decade!
How do I redeem a Fortnite code on PC?
• Click Sign In on the top right corner of the Fortnite home page;
• Log in with your Epic Games account;
• Hover your mouse cursor over your account name on the top right corner;
• Select the Redeem Code option;
• Enter the key code and click Redeem.
Check out our Fortnite skin collection for some great deals that will take your gaming experience to a new level! Or simply add to your tally of V-Bucks without breaking the bank by visiting our Fortnite V-Bucks gift card collection!
Egyéb részletek
Nyelvek

Megjelenés dátuma

2021. szeptember 12.

Kiadó

Epic Games

Fejlesztők

Epic Games

Ezen működik